UK will offer third round of vaccines to 30 million
By ANGUS McNEICE in London | China Daily Global | Updated: 2021-09-15 09:35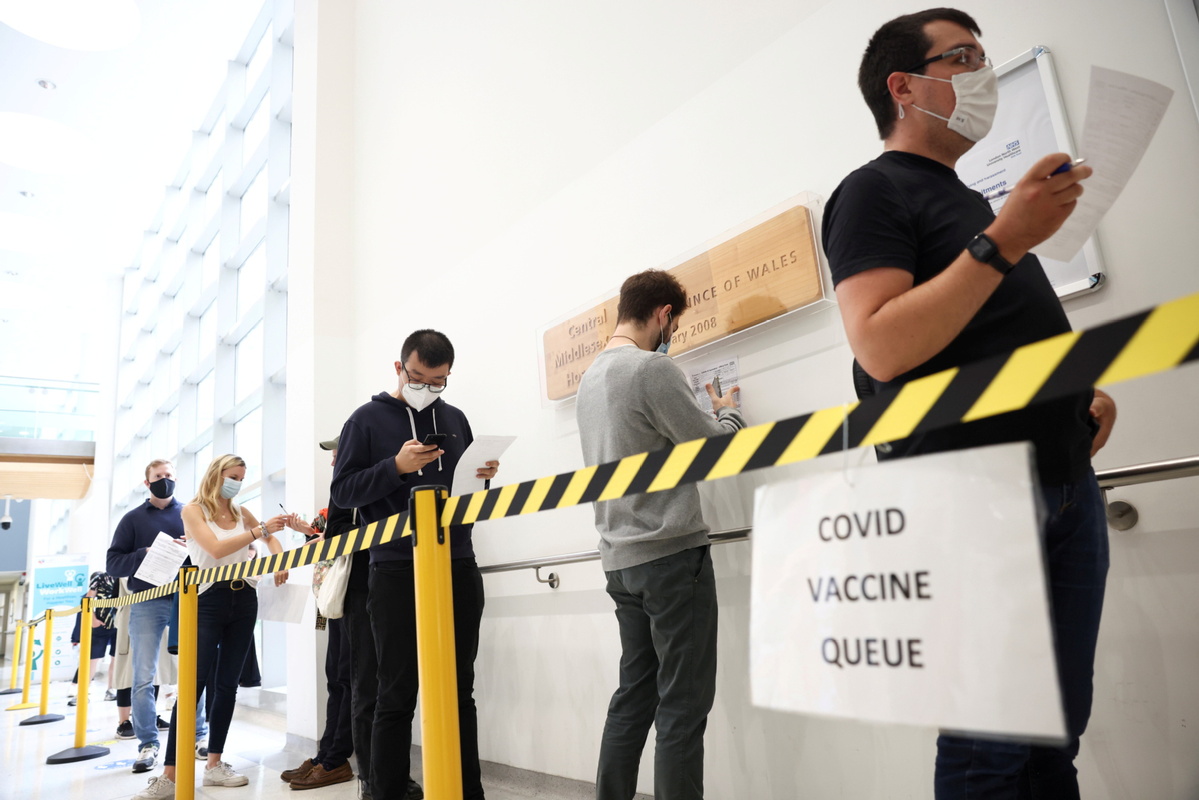 Campaign seen as 'last piece of jigsaw' for nation to step out of pandemic crisis
The United Kingdom has confirmed plans for a major COVID-19 booster campaign involving third jabs for around 30 million people, including healthcare workers, vulnerable groups, and those over the age of 50.
Prime Minister Boris Johnson said the UK will be able to "build even higher walls of protection" against the virus through this campaign, which forms part of a fall and winter COVID-19 response plan released by the government on Tuesday.
The government mentioned no consideration of future lockdowns, and said that the current strategy, known as Plan A, will focus on testing, contact tracing and vaccinations, which are now also available to 12 to 15-year-olds.
Johnson said the UK may trigger more stringent measures, outlined in a so-called Plan B contingency plan, if pressure on the National Health Service (NHS) and hospitals becomes unmanageable over the coming months. In that scenario, masks may once again become required by law in some public spaces, and some groups could be asked to work from home.
Notably, the government has ruled out a September plan to require proof of vaccination for entry into nightclubs and similar venues with large crowds. Health Secretary Sajid Javid said the UK may revisit such a mandate as part of Plan B contingencies.
"While we're not going ahead with mandatory vaccine-only COVID-19-status certification now, we will be holding that power in reserve," Javid told Parliament on Tuesday.
Mark Woolhouse, a professor of infectious disease epidemiology at Edinburgh University, called the government's package of measures a "sensible and proportionate response" to the COVID-19 threat in the UK in the coming months.
"The severity of the pressure on the NHS in the winter months remains very difficult to predict-the plan recognizes this uncertainty and therefore that contingency measures may, or may not, be needed," Woolhouse said.
But Simon Clarke, associate professor in cellular microbiology at the University of Reading, questioned why the government would wait until health services are overwhelmed before rolling out Plan B contingencies.
"With such very high numbers of community infections, things could get out of hand very quickly and it may prove impossible to close the stable door before the horse bolts," Clarke said. "The UK cannot wait for the government to order citizens on how to control the coronavirus if we hope to keep any of the freedoms we currently enjoy."
The booster campaign will begin on Monday, the government said, and will involve third jabs for those in residential care, frontline health workers, people aged 16 to 49 with underlying health conditions, people living with immunosuppressed individuals, and all adults over the age of 50.
"This is probably the last piece of jigsaw to allow us to transition this virus from pandemic to endemic and I hope by next year we'll be in a position to deal with this virus with an annual inoculation program as we do with flu," Nadhim Zahawi, the UK politician overseeing the distribution of COVID-19 vaccines, told the BBC on Tuesday.
The World Health Organization has repeatedly questioned the ethical case for booster campaigns at this time, as hundreds of millions of people in poorer regions are yet to receive a first treatment.
A review in The Lancet, published on Monday, said that the evidence so far does not support the need for booster jabs in the general population.