Ningxia surges ahead with computing power industry
By Ma Si and Hu Dongmei in Yinchuan | China Daily | Updated: 2023-09-12 09:02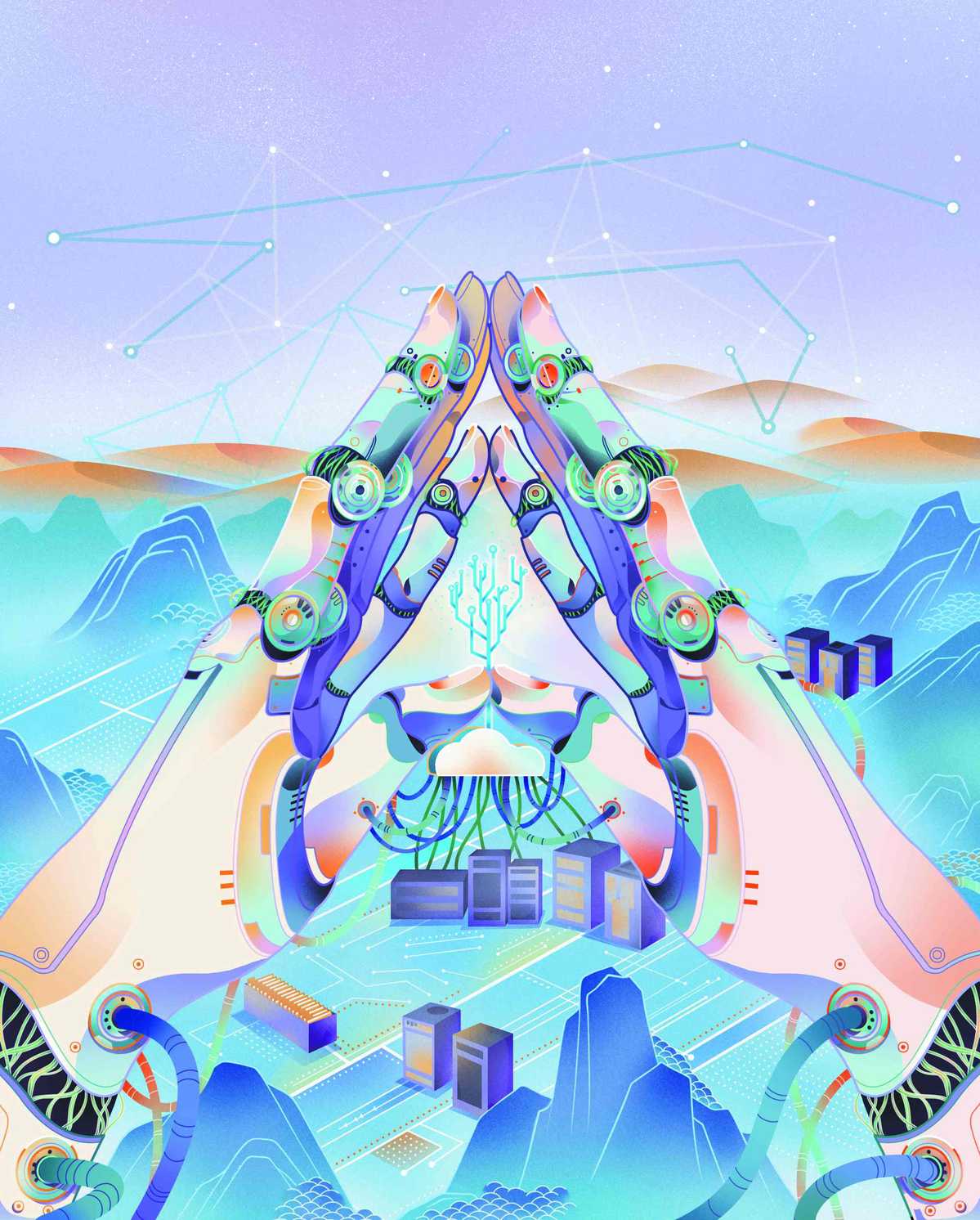 Region uses its location and climate to best advantage
A brand-new industry has emerged and is thriving in the Ningxia Hui autonomous region, home to desolate deserts and ancient tomb sites.
About a two-hour plane journey from Beijing, Ningxia has transformed itself into a hub for the nation's computing power industry by seizing opportunities arising from the digital revolution and its unique geographic and climatic conditions.
Located in an area overlooked by the towering Helan Mountain, this industry serves as the foundation for China's burgeoning digital economy.
Most people are unfamiliar with the term "computing power", but with the ability to process data, it is closely related to everyone's life and work, and is widely seen as the cornerstone for the intelligent transformation of society.
In China, a number of services are likely to be supported by the computing power of data centers in Zhongwei city, Ningxia, including videos browsed online, food orders placed by smartphone, online work projects and talking artificial intelligence chatbots.
Zhongwei, which used to be best-known for its deserts, is now nicknamed "a Silicon Valley in the deserts".
Mai Yanzhou, a member of the Standing Committee of the Communist Party of China's Ningxia Committee and vice-governor of the region, said, "Ningxia is now home to giant data centers operated by international technology heavyweights such as Amazon and major domestic internet companies, including Meituan."
The data centers in Zhongwei serve a total of more than 4,000 enterprises and government institutions, including ministries, partly due to Ningxia's proximity to Beijing compared with other western regions of the country, Mai said.
More important, Ningxia is the only provincial-level region in China designated both as a national computing hub and a new national internet exchange center.
"In addition, we have established China's first intelligent computing center, which houses more than 10,000 GPUs (graphics processing units)," Mai said.
GPUs are the most sought-after chips in China, as they are the key products buoying the artificial intelligence boom triggered by ChatGPT, an AI chatbot that has taken the world by storm.
Mai said the intelligent computing center supports companies conducting large-scale AI training of data amid the global race to develop cutting-edge AI applications.
Ningxia has emerged as a computing power center as China implements an east-data-west-computing initiative to spur development of its booming digital economy. This project involves sending data gathered from the more prosperous eastern regions of the country to the less-developed but resource-rich western regions for storage, calculation and feedback, as well as establishing more data centers in western China.
In a report to the 20th CPC National Congress in October, Xi Jinping, general secretary of the Communist Party of China Central Committee, said, "We will accelerate development of the digital economy, further integrate it with the real economy, and build internationally competitive digital industry clusters.
"We will build a modern infrastructure system with a better layout and structure, more effective functions, and greater system integration."
Growth forecast
A forecast by the National Development and Reform Commission said China's investment in data centers, which are categorized as "new infrastructure", is expected to grow by more than 20 percent annually during the 14th Five-Year Plan period (2021-25). The cumulative investment in related fields is set to exceed 3 trillion yuan ($411.6 billion).
Sun Wei, deputy director of the commission's department of innovation and high-tech development, said, "The development of big data centers will drive investment in upstream and downstream industries such as the research, development and manufacturing of information technologies (and related products), telecom networks and energy."
Calculations by the China Academy of Information and Communications Technology show that every yuan invested in building computing power could generate 3 to 4 yuan of GDP.
A forecast by market research company International Data Corp said data generated by China is expected to account for 27.8 percent of the global total by 2025. Such a huge data pool will need stronger computing power to process.
The latest report from consultancy KPMG states that by 2025, the market size of China's core computing power industry is expected to be at least 4.4 trillion yuan, up from 1.8 trillion yuan last year, and the scale of computing power-related industries could reach 24 trillion yuan by 2025.
"Computing power is expected to rise as another 'super' sector in China's digital economy blueprint, following the electronic information manufacturing industry and software industry," the report said.
Eager to turn rosy prospects into reality, local governments across China are working hard to pioneer new projects by maximizing their own advantages and introducing more policy support.
For example, Ningxia stands out from other regions due to its drought, cold weather and deserts. Traditionally, such conditions were seen as highly unfavorable for economic and social development, but now they are the biggest advantage for Ningxia to emerge as a center for the computing power industry.
Xiang Ligang, director-general of the Information Consumption Alliance, a telecoms industry association, said: "Humidity is a problem in data centers and server rooms. If the humidity level is too high, condensation will occur, leading to corrosion in all metal components of servers and wiring, and causing electrical short circuits."
However, drought in Ningxia reduces the need to install dehumidifiers in data centers, which differentiates it from other western regions such as Guizhou province, where the humidity level is high, Xiang said.
Meanwhile, data centers are known as "smokeless steel factories", and electricity accounts for a large proportion of their operating costs. In addition, the operation of a large quantity of data requires a significant amount of land area.
Ningxia boasts huge energy reserves such as wind power, and its climate is suitable for cooling data centers.
The Ningxia Department of Industry and Information Technology said the power usage effectiveness, or PUE, value of building data centers that solely use natural air cooling technology can be reduced to 1.1, making Ningxia one of the most suitable areas for developing the computing power industry. PUE, which is used to determine energy efficiency measurements, is calculated by comparing the total power used by a data center to the actual power delivered to a computing device.
Such advantages are encouraging companies to invest in building more data centers and launch additional big data services in Ningxia.
Mai, the vice-governor, said 36 strategic cooperation agreements amounting to 157.1 billion yuan were signed along with 45 investment project contracts totaling 83.2 billion yuan at the China Computational Conference 2023, which was held in Yinchuan, capital of Ningxia, last month.
More efforts
The booming computing power industry in Ningxia offers a peak into how China is stepping up its drive to build digital infrastructure.
Jin Zhuanglong, minister of industry and information technology, said computing power has become a key productivity tool in the digital economy era, adding that China's total computing power has reached 197 EFLOPS, placing the nation second in this regard to the United States. EFLOPS is a unit of computer systems' speed.
More efforts will be made to enhance independent innovation capabilities in areas such as computing algorithms and key chip products, including GPUs, said Jin, whose comments come as China's computing power industry is expected to record faster development.
Wu Hequan, an academician at the Chinese Academy of Engineering, said, "China surpassed the United States in artificial intelligence computing power in 2021. I believe that in less than a year or two, China's overall computing power will exceed that of the US."
Yu Xiaohui, head of the China Academy of Information and Communications Technology, said, "China's computing power industry has grown at an average rate of nearly 30 percent for five years, and the corresponding figure for AI computing power is 45 percent."
AI computing power currently accounts for more than 25 percent of China's overall computing power, Yu added.
He said Chinese companies are scrambling to introduce ChatGPT-like AI services, which will necessitate higher requirements for computing capacity.
Eager to seize the latest opportunity, China's first trading platform for computing power went online in Yinchuan in February, with the aim of integrating computing resources to fuel development of strategic industries such as AI and support ChatGPT-like applications.
The platform is designed to integrate the computing power resources of 23 companies and enterprises such as Sugon, Huawei Technologies Co, ZTE, Alibaba Cloud and China Telecom.
Major domestic big data institutions such as the State Information Center and the Beijing Institute of Big Data Research, and AI companies, including SenseTime, are also among those connected to the platform.
Previously, when big market players wanted to buy computing services, they needed to consult a number of computing enterprises, which were operating on their own and lacked a unified allocation of resources.
The Yinchuan municipal government said the platform can help solve these problems and maximize efficiency.
China's four telecom operators have also established data centers in Ningxia.
Yang Jie, chairman of China Mobile, said building computing power networks is the top priority for development, adding, "We will work to promote deep integration of various information technologies and make computing power as common and easy to use as water and electricity."
Last month, China Mobile and China Electronics Technology Group Corp launched the nation's largest quantum computing cloud platform, with the two companies saying this development is evidence that quantum computing in China is gradually moving toward a stage of practical use.
China Mobile said it will provide quantum computing cloud services linked with China Electronics Technology Group's 20-qubit quantum computer. A qubit — short for a quantum bit — is the smallest unit of data in quantum computing.
Such services can better support universities, enterprises and researchers to carry out quantum algorithm experiments, and help solve complex computing problems in areas such as AI, biomedicine, intelligent transportation, and aerospace.
As data centers thrive in Ningxia, more big data services are becoming accessible to local businesses.
For example, Zhang Jifeng, planting technology director at Xige Estate, a winery in the eastern foothills of Helan Mountain, tracks real-time data transmitted from the company's vineyards 70 kilometers away as he sits in his office.
The temperature in the vineyards is 33.5 C, the wind speed 2.3 meters per second, and soil humidity 15 percent, data sent via a smart agricultural control system to Zhang's smartphones show.
Collecting data by using manpower at the Xige Estate is time-consuming and labor-intensive. To solve the problem, the winery partnered with universities to develop an intelligent vineyard management system.
This system is based on an internet big data management platform, which monitors and analyzes air temperature, wind speed, soil moisture, and other real-time conditions in vineyards.
"The data is very accurate and provides a scientific basis for vineyard operations," Zhang said.