Cloud players face off after price cuts
By FAN FEIFEI | CHINA DAILY | Updated: 2023-05-25 07:18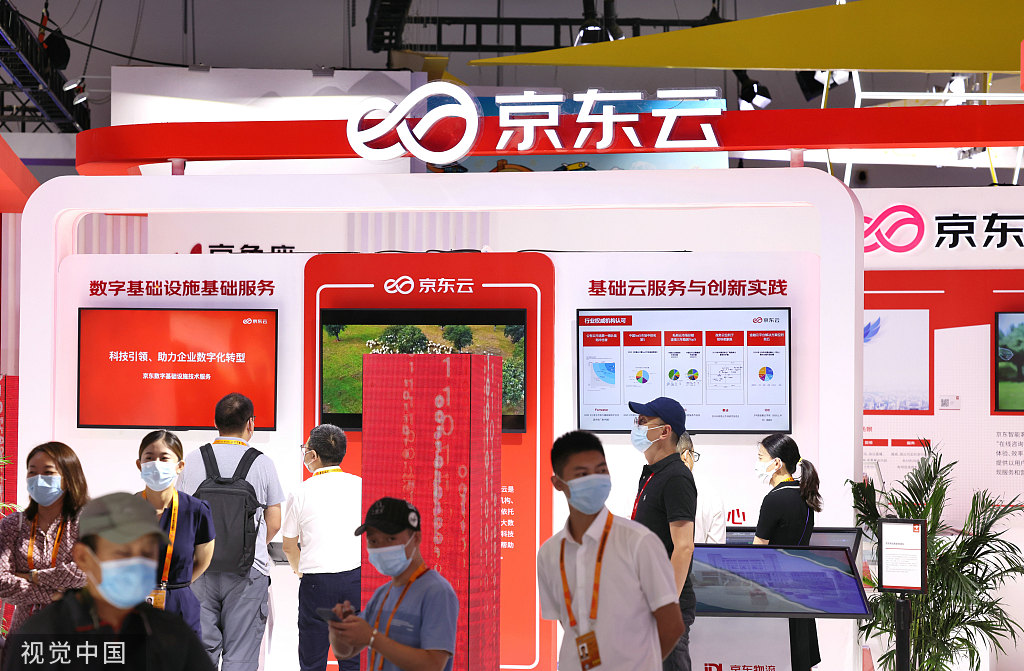 Competition in China's cloud computing sector is intensifying as major Chinese cloud service providers have announced price reductions on multiple core cloud products, leading to a price war, industry experts said.
The recent advances in artificial intelligence-powered large language models have also prompted the price cuts, they said, as more enterprises demand greater computing power despite slowing growth in the cloud market.
JD Cloud, the cloud computing arm of Chinese tech company JD, vowed on Tuesday to provide cloud products — covering computing, storage, networking and database — at the lowest prices compared to domestic rivals.
JD's move came after Chinese internet giant Tencent Holdings Ltd last week unveiled plans to slash prices of some of its core cloud services by up to 40 percent from June 1. China Mobile, a telecom carrier, said the prices of some cloud products will be reduced by up to 60 percent for a limited period.
Alibaba Cloud, the cloud computing unit of Chinese tech behemoth Alibaba Group Holding Ltd, said in April that it was cutting the price of its core products by 15 to 50 percent, marking the biggest such reduction in the company's history.
The price of its storage products will be slashed by up to 50 percent, as part of a broader push to expand its user base and improve its share of the cloud computing market, the company said.
Charlie Dai, vice-president and research director at consultancy Forrester, said a new wave of generative AI is bringing in new opportunities to digitally transform every industry in China and overseas.
"The price adjustment tactics of major cloud service providers in China for core products not only effectively help enterprises reduce costs and further accelerates digital innovation, but are also essential to power the revenue engine of these cloud vendors for sustainable business growth," Dai said.
According to market research firm International Data Corp, the revenue of China's public cloud services market reached $18.84 billion in the second half of 2022. The scale of IaaS, or Infrastructure as a Service, a public cloud computing segment, witnessed a growth of 15.7 percent year-on-year during the period versus a 27.3 percent year-on-year increase in the first half of 2022.
Alibaba Cloud took the top spot with a 31.9 percent market share in the second half of last year, while Huawei Cloud ranked second, accounting for 12.1 percent share in China's public cloud market, followed by China Telecom's cloud services and Tencent Cloud, which had 10.3 percent and 9.9 percent of the market share, respectively.
Cui Tingting, research manager at IDC China, said the intense competition in China's cloud market has forced leading cloud service companies to further seek differentiation while offering products and quickly adjust their business models.
"The price cuts will have a short-term impact on profit margins of public cloud service providers. However, in the long run, the move will lower the cost of enterprises to access cloud services, and promote the upgrading of cloud technology, thus giving a strong boost to the rapid growth of cloud computing market," Cui added.
Alibaba said more than 200,000 enterprises have requested beta testing for Tongyi Qianwen, the company's AI large language model, a potential rival to OpenAI's ChatGPT.
Cloud computing serves as the best way to promote the application of AI on a large scale, said Zhang Yong, chairman and CEO of Alibaba Group and CEO of Alibaba Cloud Intelligence, adding that the company is committed to making computing and AI services more accessible and inclusive for enterprises and developers.
Revenue from Alibaba's cloud business reached 18.58 billion yuan ($2.6 billion) during the first quarter of the year, a decline of 2 percent year-on-year, partly caused by delays in the delivery of hybrid cloud projects due to a resurgence of COVID-19 in January, the company said.