China's initiatives promote harmony in world
By Daniel A. Bell | chinadaily.com.cn | Updated: 2023-03-19 08:44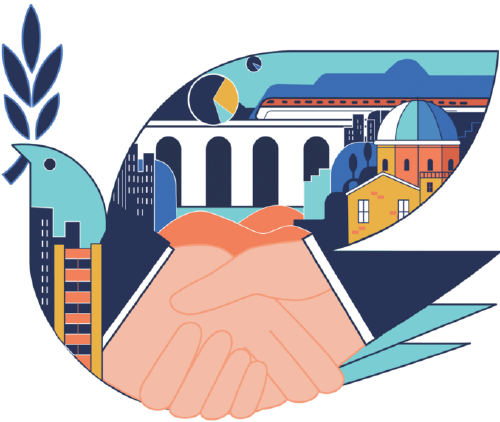 President Xi Jinping has said that China must seek "harmony for the entire world". With his Global Civilization Initiative on Wednesday, Xi emphasized that Chinese modernization is also a path the country should take to "seek progress for humanity and harmony for the entire world". The aim is not only to deliver benefits to the Chinese people but also to boost the common development of the entire world.
Xi made the proposal while delivering a keynote speech via video link at the opening ceremony of the Communist Party of China in Dialogue with World Political Parties High-Level Meeting that brought together more than 500 political parties and organizations from over 150 countries.
What precisely does "harmony" mean in international relations? The Chinese character he (和) — commonly translated as "harmony" — is a key concept in Confucian ethics. It was highlighted at the opening ceremony of the 2008 Summer Olympic Games in Beijing as representing the core of Chinese culture. I remember watching the ceremony on American television with an announcer marveling at the discipline and order displayed by the "harmonious" soldiers at the ceremony, who all seemed to act in complete unison.
However, I realized that "harmony" gives the wrong impression in English, because it sounds like uniformity and conformity — a harmonious society is one where everybody thinks and acts alike. But that's almost the opposite of what is meant by he. Every Chinese intellectual knows the saying in the Analects of Confucius that exemplary persons value harmony (he) but not sameness/uniformity/conformity (junzi he er bu tong).
In other words, the idea of he values, if not celebrates, diversity and pluralism. Respect for diversity should take place in a peaceful political order, with the different parts interacting and enriching each other through mutual learning. So a better translation of he would be "diversity in harmony."
In international relations, valuing "diversity in harmony" would mean trying to secure peaceful and mutually beneficial outcomes in a diverse and plural world. State actors would interact with each other by means of respectful and restrained dialogue, rather than lecturing other countries that prioritize different values. Countries, regardless of their size and influence, would be treated as equals in this dialogue process.
But equality in dialogue does not mean large and powerful countries can neglect extra responsibilities. China and the United States, for example, have the power to "shake the world" and need to consider the global impact of policies in a way that, say, Canada (where I'm from) need not. And on issues such as climate change, China can and should take the lead.
Large and influential countries can also play the role of peacemakers because they have more power and influence to bring warring sides to the table. China's role in bringing about a rapprochement between Iran and Saudi Arabia and persuading them to resume diplomatic ties is an inspiring example.
For China, the role it played in the Saudi Arabia-Iran détente is part of its Global Security Initiative efforts to maintain global peace and stability. If the Riyadh-Teheran deal holds and helps to end the brutal civil war in Yemen, the key mediators and participants fully deserve a Nobel Peace Prize — more so than former US president Barack Obama's Nobel Peace Prize which was given shortly after he took office on the basis of potential rather than actual achievements.
Xi, during his visit to Russia from Monday to Wednesday, may try to persuade Moscow to seek a peaceful resolution to the Russia-Ukraine conflict as part of his Global Security Initiative. And if China can promote peace talks between Russia and Ukraine, we will be yet one step closer to realizing the value of "diversity in harmony" in the entire world.
The author is chair professor of political theory in the Faculty of Law at the University of Hong Kong. The views don't necessarily reflect those of China Daily.
The opinions expressed here are those of the writer and do not necessarily represent the views of China Daily and China Daily website.
If you have a specific expertise, or would like to share your thought about our stories, then send us your writings at opinion@chinadaily.com.cn, and comment@chinadaily.com.cn.