Amazon workers walk out over pay in first UK strike
Updated: 2023-01-25 21:04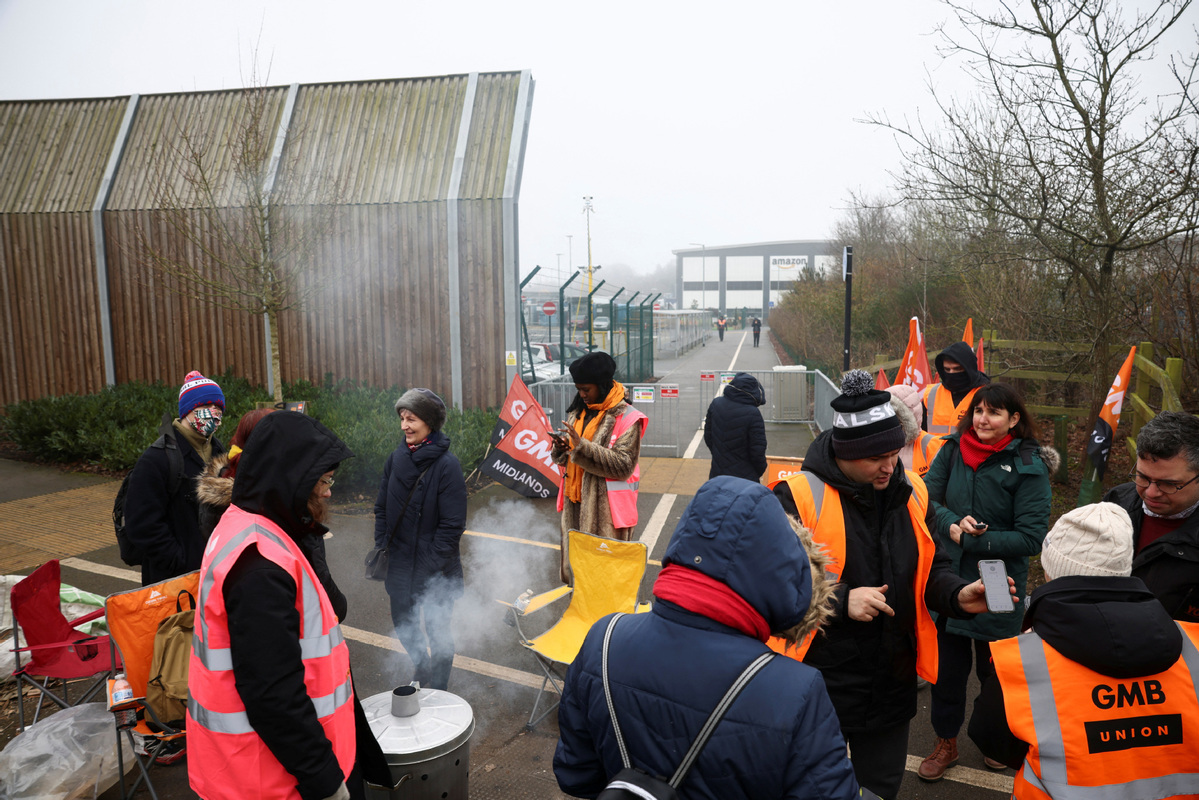 COVENTRY - Amazon workers at a warehouse in central England walked out on Wednesday in protest over pay, marking the first time the US tech company's operations in Britain have faced strike action.
Stuart Richards from the GMB union told Reuters that surging inflation had pushed its members to take industrial action and that 300 employees from the 350 GMB members at the Coventry site were expected to walk out.
"These workers are having to work incredibly long shifts, just to try and make ends meet, just to try and feed their families. We've got to be better than that," he said.
Amazon said 178 of its 2,000 workers at the warehouse had voted to strike.
As staff arrived for their shift on early on Wednesday, union members urged them to support their colleagues instead. Some of the workers lined up at a GMB tent to sign up to join the union as the strike started.
The walk-out is just the latest in Britain, which is facing its worst industrial unrest since Margaret Thatcher was prime minister, with staff from key sectors, including nurses and ambulance workers as well as from the railways and the legal profession staging strikes in fights for better pay.
Amazon, which employs 75,000 people across the UK, increased starting pay by 50 pence to a minimum of between 10.50 and 11.45 pounds ($12.95 to $14.12) per hour last year, compared with a minimum wage in Britain that is set to rise to 10.42 in April.
Darren Westwood, who has worked at the Coventry site for three and a half years, told Reuters that the latest pay rise was not enough, as wage growth has lagged inflation, which hit a 41-year high of 11.1% at one point last year.
"None of us want to strike. We'd all rather be in the warmth inside than be drinking tea out here in the cold, but it's come to that point now where the cost of living has just gone crazy," he said.
Workers at another Amazon warehouse in Tilbury, south east England, had walked out in August on an impromptu basis and without a formal ballot. The Coventry strike is the first legally mandated action against Amazon in Britain.
An Amazon spokesperson said the company already offers competitive pay and comprehensive benefits. When asked if they officially recognised the role of the union in pay talks, the spokesperson said: "Having a direct relationship with the company is best for our employees."
"Our employees have the choice of whether or not to join a union. They always have."
The Nasdaq-listed group has faced criticism from labour advocates in the United States for discouraging union membership among workers through mandatory staff meetings to warn staff about unions.
Nicholas Henderson, another worker at the Coventry warehouse, told Reuters that the worsening cost-of-living crisis had led him to strike.
"The time you've added your rent, your mortgage, your food, your bills, you basically got nothing left." ($1 = 0.8108 pounds)
Reuters