Domestic makers beam light on endoscopy sector
By ZHENG YIRAN | China Daily | Updated: 2022-12-07 09:30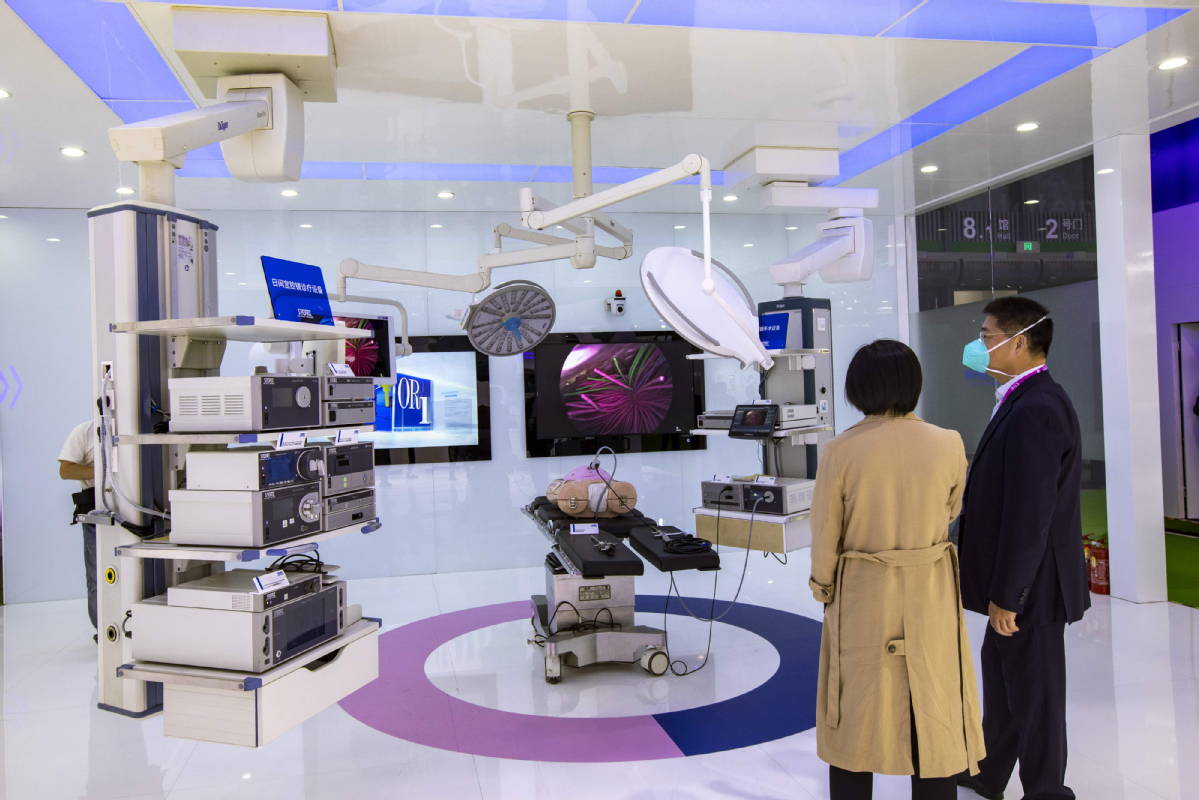 Thanks to the continuously rising standards of medical and healthcare services in China, fluorescence endoscopy businesses are gaining more ground in China, experts said.
Fluorescence endoscopy is a tech that normally uses a light source to produce fluorescence to better detect non-visible malignant or premalignant lesions or, those which are difficult to detect. It plays a key role in accurate positioning during surgeries and reducing surgical risks.
According to consultancy Frost &Sullivan, by 2024, the sales revenue of the fluorescence endoscopy sector in China is expected to reach 3.52 billion yuan ($503 million).
In addition, between 2019 and 2024, the compound annual growth rate is expected to reach 99.6 percent, compared to 24.3 percent globally during the same period, it said.
The subcategory has also become an investment attraction in China in recent years. OptoMetic, a player in the sector based in Foshan, Guangdong province, received an investment of over 100 million yuan in 2021. Tech giant Alibaba became one of its shareholders this year, according to market information provider Tianyancha.
Novelbeam Technology, a Qingdao, Shandong province-based maker of core fluorescence endoscopy components, is listed on the Shanghai Stock Exchange's sci-tech innovation board, or the STAR Market, and now has over 10 billion yuan in market value.
The company went public in 2021, with an offering price of 35.76 yuan per share. On Tuesday, its share price closed 1.16 percent down at 109.71 yuan.
Yang Xue, an expert in medical devices at VBData.cn, a Chongqing-based healthcare service platform, said, "One driving force is the demand from China's minimally invasive surgery (MIS) sector."
Technical breakthroughs achieved by domestic companies are another driving force. The first registration certificate for fluorescence endoscopy manufacturing in China was issued by the National Medical Products Administration in 2017 to Suzhou Caring Medical Co Ltd. The company is also the first in China to obtain certification for its 4K fluorescence endoscopy products.
According to VBData.cn, since 2021, OptoMetic has become the largest maker in China in terms of fluorescence endoscopy market share, taking over German medical device company Karl Storz.
Other domestic companies, including Novelbeam and Suzhou Caring Medical, are also playing catch-up.
However, Yang with VBData.cn, said in the high-end niche, domestic companies are facing challenges in grabbing a larger market share.
"International brands are still leading in rolling out new products, making themselves the prior choice for most doctors. In addition, MISs are mostly carried out with higher-quality equipment. The high-end fluorescence endoscopy market is not easy for a company to enter. In such a field, a low-price strategy won't make much difference," she said.
Innovation is key for domestic companies to enhance their core competitiveness, said Yang Kejian, CEO of Ushio Medical Technology (Suzhou) Co Ltd, a company majoring in applying intrinsic fluorescence imaging technology in cervical cancer pre-diagnosis.
"Enterprise leadership, business strategy and final implementation should all be innovation-driven. Companies should increase investment in research and development, optimize and integrate resources, broaden international vision and attach importance to talent," Yang with Ushio said.
Ding Yan, deputy general manager of OptoMetic, said: "It is reasonable that medical professionals choose high-quality medical equipment and are more dependent on imported products. For Chinese companies, only when we produce better devices rather than forcing users to adopt domestic products, can we win the market."
With more advantages in registration, domestic companies should also step up their efforts to better seize "the window of opportunities in the Chinese market".
Yang with VBData.cn said there are three development directions that will lead to technical breakthroughs — high-definition imaging, 3D imaging and mixing image technologies.
She said she believes "years of technological accumulation by Chinese companies will bear the fruit of major breakthroughs in the sector".