Beijing eyes margin trade, stock lending
By ZHOU LANXU | China Daily | Updated: 2022-12-07 07:08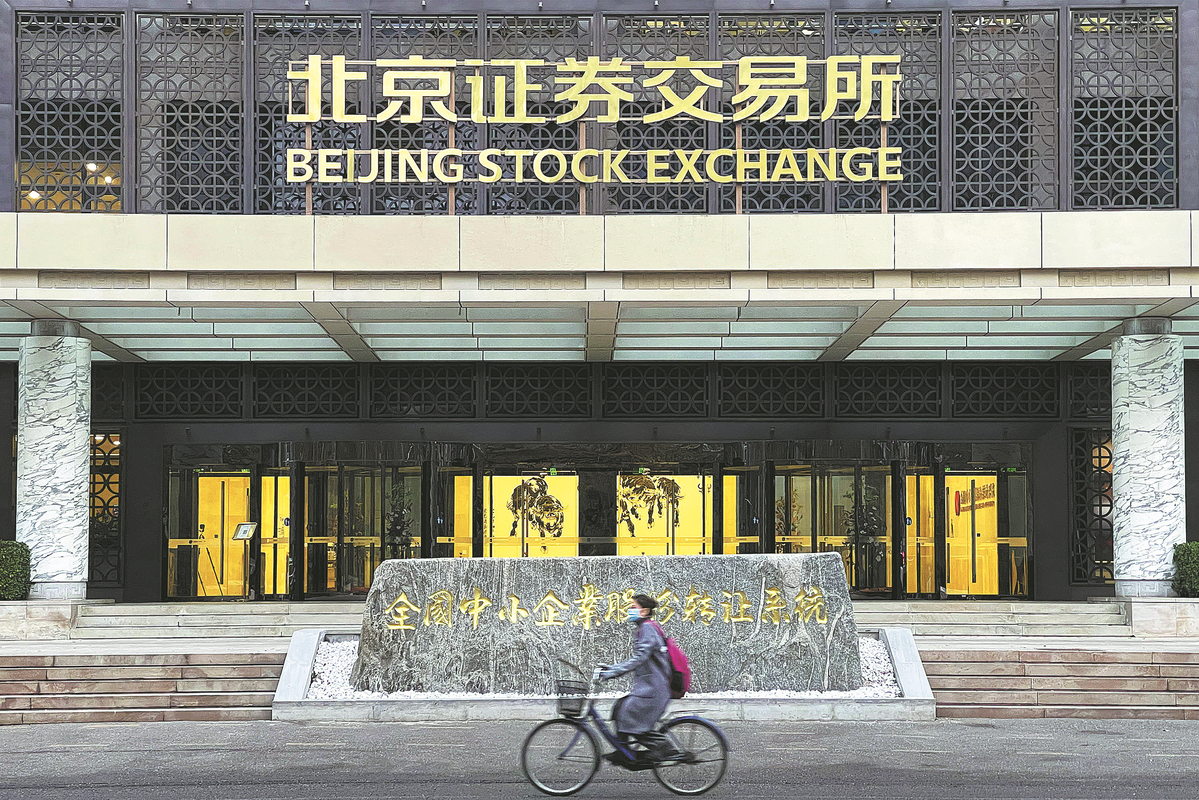 Bourse carrying out tests to determine if participants technically prepared
The official launch of margin trading and securities lending on the Beijing Stock Exchange could be on the horizon as the one-year-old bourse steps up efforts to perfect market functioning, experts said on Tuesday.
Their comments came after the BSE carried out a test over the weekend to examine whether market participants are technically prepared to provide margin trading and securities lending services — a key preparatory step before the exchange can kick off such services.
As the second test — which is expected to be the final one — is scheduled to take place on Saturday, experts said margin trading and securities lending might be launched on the exchange later this year or early next year.
Participants in the tests include the BSE itself as well as brokers and market infrastructure providers such as China Securities Depository and Clearing Corp Ltd.
Margin trading refers to investors borrowing money from brokers to purchase securities in anticipation of price increases. Securities lending allows investors to borrow securities from brokers to make a short sale to capitalize on expected price declines — or for risk hedging purposes.
Such a margin lending mechanism is widely used in international capital markets to help investors use leverage to amplify gains and improve market liquidity and pricing efficiency. The Shanghai and Shenzhen bourses also adopt margin trading and securities lending systems.
Experts said the anticipated launch of margin lending on the BSE will mark a milestone in the exchange's efforts to grow into a mature bourse with comprehensive market functions while supporting investors in developing diversified trading strategies and improving risk management.
Liu Jing, an analyst at Shenwan Hongyuan Securities, said the introduction of margin lending is expected to help attract more capital to the Beijing exchange and provide investors with more tools to hedge against risks.
Nevertheless, Liu said the risks associated with margin lending should be well understood. For investors, using leverage can not only amplify returns but aggravate losses, and brokers will also need to manage liquidity risks when they lend to clients.
Having unveiled relevant rules in November, the BSE said it will officially kick off margin trading and securities lending after market players upgrade their technical systems, formulate relevant internal rules and apply for related trading access.
Zhou Guihua, chairman of the BSE, said last month that the bourse will make margin trading and securities lending effective "as soon as possible" as part of its efforts to perfect trading mechanisms.
The exchange said it will publish the lists of stocks eligible for margin lending and securities allowed to be used as collateral in margin accounts.
To perform margin trading, investors will need to ensure the collateral they deposit with the broker is not less than the value of securities they buy. For securities lending, collateral should be no less than half of the value of securities they short, the BSE said.
The preparation for launching the margin lending system is part of all-around efforts by the BSE to perfect its overall functioning.
The bourse launched its first market index — BSE 50 — on Nov 21, and eight publicly offered funds tracking the index launched sales on Nov 29. Effective this month, the bourse has halved the commissions it charges for stock trading to 0.025 percent of transaction value.
The exchange may also soon see its first initial public offering of a company with a foreign controlling stake. Suzhou Ovodan Foods Co Ltd, an egg product manufacturer with a nearly 90 percent stake held by China Egg Products ApS — a Danish company — passed the exchange's IPO review on Thursday.