Support on digital economy to be crucial
Share - WeChat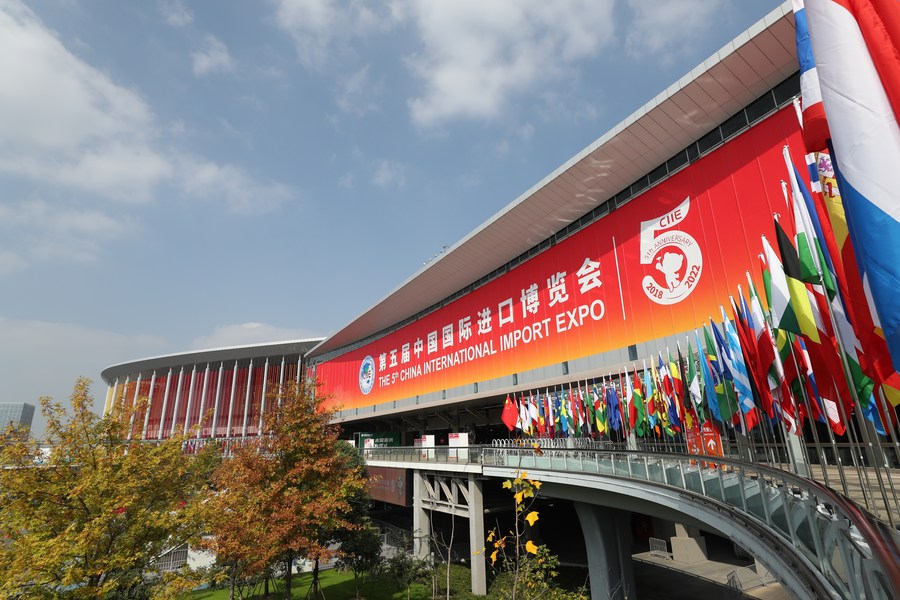 At the fifth China International Import Expo held earlier this month, President Xi Jinping said that China will endeavor to join the Digital Economy Partnership Agreement to expand the globally oriented network of high-standard free trade areas. He also said China will firmly support other developing countries in growing faster and promote the building of a community with a shared future for mankind.
Xi's statement comes at a time when the digital economy is reshaping and becoming a driving force for economies as a COVID-19 pandemic recovery strategy.
Today, the concept of the digital economy is providing a new architecture for transforming the world economy, particularly in the areas of service industries such as hospitality, banking and insurance, entertainment, wholesale and retail trade, and information and communication technology.
As observed by the Organization for Economic Cooperation and Development in 2020, due to the impacts of the pandemic, trade in services declined but trade in digitally delivered services, such as information technology services and telecommunications, boomed.
In China, the digital economy is critical for the country's overall development. Under the 14th Five-Year Plan for the Development of the Digital Economy, released in January, China intends its digital economy to grow from 7.8 percent of total GDP in 2020 to 10 percent by 2025. The plan includes fully utilizing data as a core factor of production, enhancing innovation capabilities in key sectors such as quantum computing, sensors, artificial intelligence and blockchain, improving and upgrading digital infrastructure, implementing digital transformation across all industries, and improving the digital economy governance system.
In building a community with a shared future for mankind, China has also opted to use its prowess in the digital economy to actively engage African countries and Belt and Road countries on digital economy policies.
For instance, in Africa, China is supporting the continent in raising the level of digitization in the public and corporate sectors and promoting industrialization. This is done through the application of new technologies such as big data, the internet of things, mobile payments and cloud computing.
Furthermore, under the China-Africa Cooperation Vision 2035, Beijing will not just promote partnerships in trade and investment, but also enhance ties in emerging areas such as low-carbon development and digital economy.
Thus, as part of the 2021 Forum on China-Africa Cooperation's action plans, China committed to supporting Africa in undertaking 10 digital economy projects, setting up centers for China-Africa cooperation in satellite remote-sensing applications, and supporting the development of China-Africa joint laboratories, partner institutes and scientific and technological innovation cooperation bases.
In addition, China will work with African countries to expand Silk Road e-commerce cooperation, hold online shopping festivals featuring quality African products, conduct tourism e-commerce promotion activities and launch a campaign to market 100 African stores and 1,000 African products on e-commerce platforms.
These action plans for enhancing digital innovation will not only transform Africa as a continent but also make it a global digital hub, especially with the implementation of the African Continental Free Trade Area, which is viewed as the world's largest free trade area with a market size of approximately 1.4 billion people.
In light of President Xi Jinping's statement during the fifth CIIE in relation to expanding the globally oriented free trade network, China and Africa can enhance their comprehensive cooperation in making the African Continental Free Trade Area a success.
One area for China-Africa cooperation within the African free trade area is the implementation of the Pan-African Payment and Settlement System. As one of the five key instruments for the implementation of the African Continental Free Trade Area, the payment and settlement system aims to simplify payments across the African continent. As the digital economy and innovation continue to grow in Africa, the system was successfully piloted in 2021 in the West Africa Monetary Zone comprising Nigeria, Gambia, Guinea, Sierra Leone and Liberia.
Therefore, to assist other African countries in successfully implementing the payment and settlement system, China can continue to support Africa in implementing more digital infrastructure projects such as fiber optic backbone networks, cross-border connectivity and new-generation mobile communications networks. China can also fast-track the expansion of internet access in Africa's remote areas to connect the last stretch of the information network.
Thus, in putting President Xi's words into action, China and Africa can leverage their long-standing cooperation and strengthen the digital economy and e-commerce cooperation to ensure that both civilizations benefit from each other's expansive markets.
The author is executive director of the China-Africa Center at the Africa Policy Institute in Kenya.