Couriers struggle to work amid lockdowns
By Chen Meiling | CHINA DAILY | Updated: 2022-11-25 08:37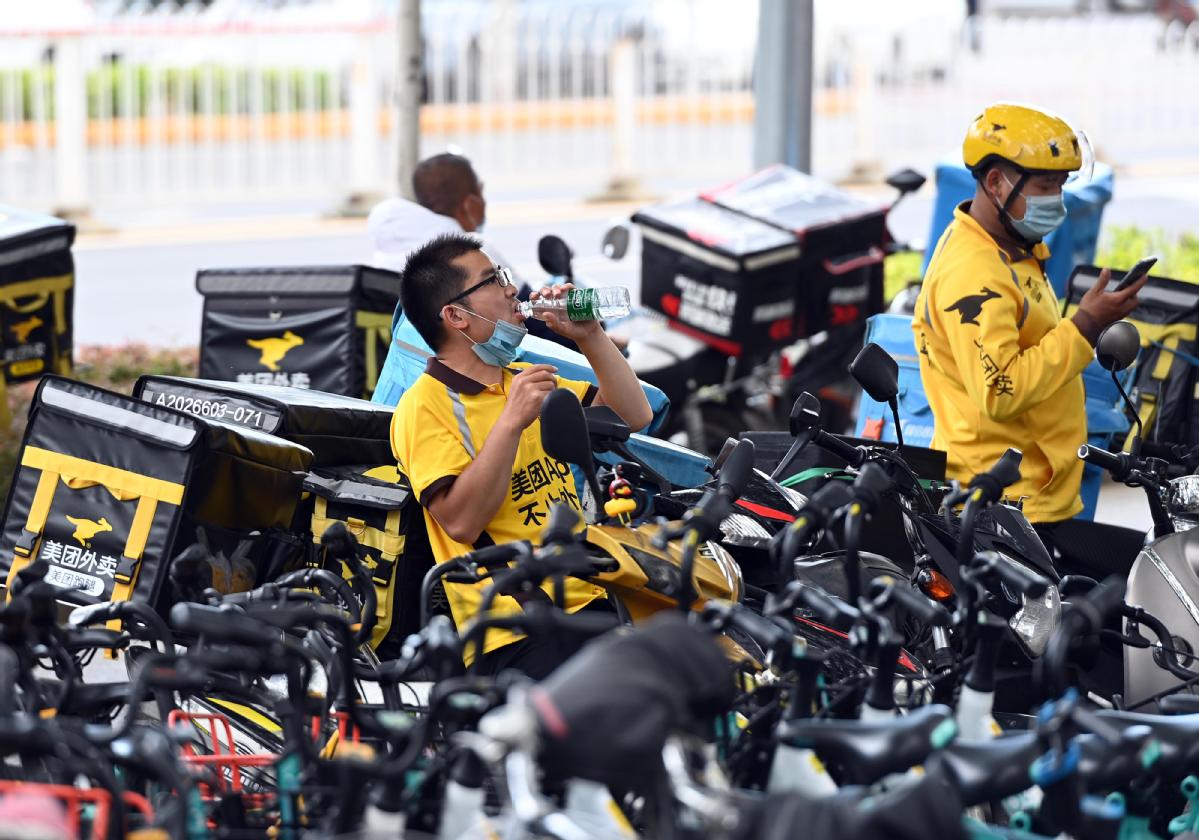 Some delivery drivers in Beijing are struggling to find places to stay after being locked out of their communities due to the ongoing outbreak of COVID-19.
One such courier, Yang Dongxu, 29, from Haidian district in the capital, posted about his experience online on Tuesday night.
Yang said that after the community he lives in was locked down on Sunday, he had nowhere to go. He and 14 of his colleagues were forced to roam the streets for three days because they could not afford to pay for hotel rooms.
"We don't want to be locked down because we don't want to lose the only source of income we have," Yang wrote in his post, adding he didn't know when the restrictions in his community would be lifted.
Over the past few days, he and his fellow couriers, who are a lifeline to those locked down in the capital, have had to resort to sleeping on sofas or chairs in empty office buildings and underground commercial centers at night, often without heating. Security guards would regularly shoo them away, Yang said.
He is only able to pay around 50 yuan ($7) per night for accommodation as he doesn't earn a lot, Yang said, but such places are a rarity in the capital.
His post quickly gained momentum on social media, attracting the attention of many netizens sympathetic to the situation he and others have found themselves in.
Upon learning of the couriers' struggles, the on-demand services platform Meituan, whom the couriers work for, contacted them several hours later and arranged hotel rooms for eight of them on Tuesday night. The company said it would cover the costs.
The remainder have since found places to stay. Meituan has also promised to help them find new rental accommodation later, according to Yang.
Meituan released a statement saying that its couriers in similar situations can call for help, too.
As prevention and control measures against COVID-19 are ramped up in Beijing, demand for online deliveries has spiked, resulting in overworked couriers and long waiting times.
Yang said he deals with about 70 orders every day, compared with around 50 orders in normal times, and to complete his orders he's had to work until midnight in recent days.
Another Meituan courier who asked to remain anonymous, said, "packages piled up like a mountain" at his work station and it often takes a long time for him to find the right package he needs to deliver.
The courier has been regularly working 14 hours a day, from 9 am to 11 pm. He delivered about 70 packages on Wednesday, each earning him 5 yuan. He said his home was also locked down, so he has stayed in a hotel recently, which costs about 200 yuan a night. "Many of us want to quit the job," he added.
An SF Express courier surnamed Wang, who is also staying in a hotel due to community lockdown, said the company had promised to reimburse 50 percent of his accommodation costs.
According to a report in Beijing News, Meituan has increased its number of couriers by 20 percent in the capital to meet the surging demand. To avoid infection, its couriers must get tested and report their health conditions every day.
Online grocery platform Dingdong Maicai has employed an extra 200 new couriers since the start of the latest outbreak in Beijing. It is also arranging for over 100 couriers to come from other cities to ease the pressure. The company suggested that people reduce the frequency of their orders and instead buy all the goods they need at one time.
Alibaba-owned supermarket Hema Fresh, or Freshippo, is working with restaurants that have suspended dine-in services to hire their workers temporarily to deliver food. It said workers from other industries are also welcome to take part.
Yang Beibei, deputy head of Chaoyang, the hardest-hit district in Beijing, said at a news conference on Thursday that the supply of living necessities is sufficient and stable, so there is no need for people to stockpile. In high-risk areas, the government will prepare vegetables for residents, she said, adding that the "white list" of deliverymen will be expanded to strengthen transport capacity on the basis of epidemic prevention.
Wang Songsong contributed to this story.