Domestic EVs are driving green revolution
By Kang Bing | China Daily | Updated: 2022-11-22 07:23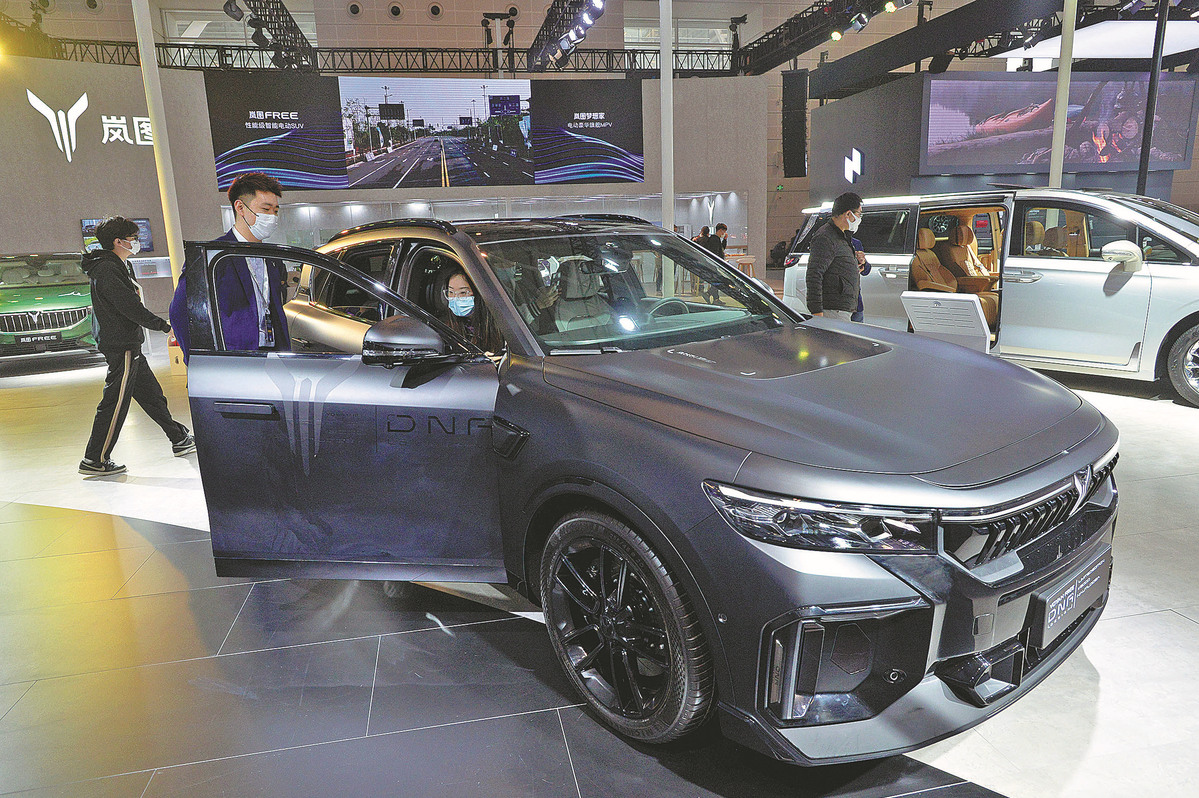 Editor's Note: China is already a world leader in the production and sales of electric vehicles, and judging by their popularity, more of these eco-friendly vehicles will be seen on the roads, writes a veteran journalist with China Daily.
Driving on Beijing's congested roads, I often find myself sandwiched between cars with green-color license plates which signify they are electric-powered vehicles. Sitting in my gas-powered car, I can't help but feel guilty for not being eco-friendly enough to buy an electric vehicle (EV).
The presence of so many EVs on the roads suggests the central authority's decade-old efforts to promote EVs are paying off. More and more eco-friendly cars, buses and heavy trucks are plying on the roads across China. While in 2014, only 74,763 EVs were sold nationwide, the number increased to a whopping 3.5 million last year, making China the world's biggest market for EVs.
In fact, more than 10 million EVs are running on China's roads today. Although the number makes up only a little more than 3 percent of the total 302 million vehicles in China, the fact that the sale of EVs increased 1.6 times between 2020 and 2021 signifies the rising popularity of new-energy vehicles. And that fact that about 3.2 million EVs were sold in the first seven months of this year, up more than 100 percent, shows EV sales momentum has gathered pace.
China is a latecomer to vehicle manufacturing. It did not have any significant auto manufacturing industry until the late 1980s when a number of big auto manufacturers from Germany, Japan, France and the United States established joint ventures with Chinese companies to make cars in the country.
For the next couple of decades, foreign brands dominated the Chinese market, leaving the few domestic manufacturers fighting for survival. It was then that some domestic car manufacturers decided to invest in new-energy vehicles in order to grab a bigger share of the market. While governments at different levels implemented a series of favorable policies to help them achieve their goal, the central government invested billions of yuan to build charging stations/points.
In fact, the central government's goal is to set up at least 20 million charging points before 2025 to make it more convenient for the EV owners to charge the batteries of their vehicles. Also, the government offers subsidies to those buying an EV or replacing a gas-powered car with an EV.
While transportation authorities are replacing gas-powered buses with new energy-driven vehicles in the air pollution-prone Beijing-Tianjin-Hebei region, the goal is to have 80 percent of all heavy trucks running on new energy by 2025.
Beijing has taken the lead in popularizing EVs. The capital now has 560,000 EVs, and set a target of increasing the number to 2 million, or 30 percent of the total number of vehicles, in the next three years. To encourage the sales of EVs, the Beijing municipal government has implemented a rule that gas-powered vehicles can be on the road for only six days a week to ease traffic jams and reduce carbon emissions, but EVs can be driven on all seven days.
Many other local governments, inspired by Beijing's eco-friendly program, are offering extra subsidies to EV buyers, ranging from 10,000 yuan ($1,405) to 30,000 yuan, which could cover about 20 percent of the price of an EV.
Friends who own an EV have been urging me to replace my car with a new energy vehicle. They say the operating cost is much cheaper. While it costs about 10 US cents for a gas-powered car to travel one kilometer, only about three cents are required for an EV to cover that distance.
With oil prices rocketing because of the global energy crisis, it is wise to choose an EV. But despite being popular in China, EVs generally can cover 300-600 km after being charged, not enough for long-distance driving. True, there are EVs that can cover about 800 kilometers after one charge, but that's possible only with more than one fully charged battery, not because of any breakthrough in battery technology.
Besides, recharging stations are difficult to find, and even after finding one, one has to wait for a long time in "queue" before getting a chance to charge the car's battery, because even a rapid charging station takes more than half an hour to fully charge a battery.
But given the government's all-round support and the rapid development of new-energy cars in China, I believe EV prices will come down and recharging will become more convenient.
PS: I have decided to replace my old car with an EV before the end of 2025.
The author is former deputy editor-in-chief of China Daily.
If you have a specific expertise, or would like to share your thought about our stories, then send us your writings at opinion@chinadaily.com.cn, and comment@chinadaily.com.cn.