Myopia-free school's secret seen as replicable
Share - WeChat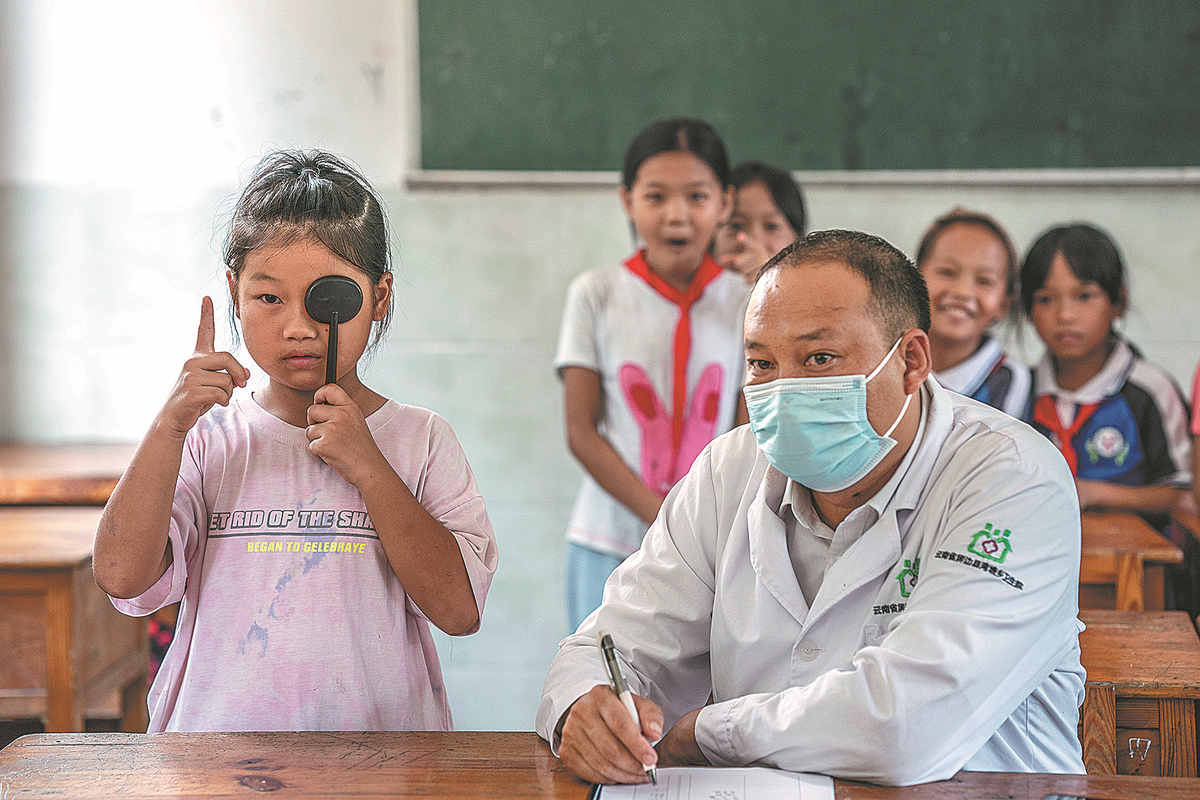 Three hours of outdoor play and no mobile phones, electronic pads or long hours of screen staring-that's the secret to zero myopia at a primary school in Southwest China's Yunnan province.
Having no nearsighted students is considered to be a remarkable achievement in China. The prevalence of myopia for primary school students stands at 35.6 percent nationwide, and the rate rises to nearly 81 percent for senior high school students, according to official data released last year.
As Wantang Primary School, which is in Yunnan's lush green mountains, came into the spotlight, parents, educators and eye specialists began discussing whether its experiences can be replicated nationwide to counter the rising level of myopia across China.
Yang Chenhao, head of the ophthalmology department at the Children's Hospital of Fudan University, said that while the school is a unique case, some of its measures are highly worth learning, such as keeping children away from mobile phones and getting them outdoors more often.
"The greatest challenge would be to shift mindsets of educators and parents amid intense academic competition these days," he said. "I think it is important to spread the awareness that academic grades should not be the sole focus. Instead, physical, mental and eye health of children should be prioritized."
Yang Qingyi, a faculty member at the school, which has 536 students, said that all children are required to go outside during class breaks. "Even for quiet kids, we encourage them to take a walk outside," he said.
The boarding school in the remote countryside in the Honghe Hani and Yi autonomous prefecture makes the best of its basic infrastructure and resources to instill a passion for sports and exercise among its students, such as tying cleaning cloths into a large knot to practice throwing or doing stair jumps.
When the three sports teachers are occupied, school administrators and teachers of other subjects also double as trainers to teach basketball and table tennis.
"If there is one piece of advice that we can share on achieving zero myopia, I would say large amounts of outdoor activities," said Sun Fubiao, the primary school's principal.
Sun said that a number of his students' parents are migrant workers living in other areas, so the school has installed six public phones on campus while forbidding use of personal cellphones or other electronic devices.
"In teacher-parent WeChat groups, we frequently remind parents to pay attention to kids' eye health when they are at home for weekends or vacations," he added.
Sun said that during his seven years at the school, he has never encountered any student with nearsightedness. However, Sun himself and five other staff members at the school wear glasses due to myopia.
"I always find wearing eyeglasses a nuisance. Its very hot here in Honghe and I sweat profusely, causing the eyeglasses to slip off my nose," he said. "I do not want to see the next generation have to go through all the hassle, so it's natural for us to attach significance to protecting eyesight."
Nationwide, the attention on optical health has also been growing. A number of measures, such as reining in the number of new online games, rolling out regular eye examinations, and prohibiting giving homework to first- and second-graders, have been implemented in recent years.
Zhou Xue, the mother of a 9-year-old boy in Jiangsu province, said that at least seven of the 46 children in her son's class wear glasses. "Anxiety about vision health is very real these days. We parents often discuss which brand of eye-protection desk lamp or eyedrops is best, or which hospital's ophthalmologist is the most reliable."
At school, her son is involved in a variety of outdoor activities, such as running, jumping rope and doing pushups.
Thanks to strict supervision from the local education bureau, Zhou said she believed no school would dare to sacrifice outdoor activities for extra academic work nowadays. "But as his mother, I do not want to see him lag behind in school due to less time spent on studying. Its still really hard to achieve a balance."