Biden, Fed differ on roots of inflation
By HENG WEILI in New York | China Daily Global | Updated: 2022-06-23 10:30
The White House has insisted that "Putin's Price Hike" is a root cause of inflation and used that label in the title of President Joe Biden's speech about gas prices Wednesday.
"I'm doing everything I can to blunt the Putin Price Hike and bring down the cost of gas and food," Biden tweeted. "I led the world to coordinate the largest release from global oil reserves in history, and I'm working to get 20 million tons of grain out of Ukraine to help bring down prices."
Biden on Wednesday called on Congress to suspend the federal gasoline tax for three months, saying it is a choice between "lower gas prices in the US, and Putin's iron fist in Europe".
But Federal Reserve Chair Jerome Powell said shortly before the president's tweet that gas prices were on the rise before the start of Russia's military action in Ukraine in February.
When asked Wednesday by US Senator Bill Hagerty, a Louisiana Republican, if the conflict in Ukraine is the driver of inflation in the US, Powell replied: "No. Inflation was high before, certainly before the war in Ukraine broke out."
The president also urged states to temporarily suspend state fuel taxes.
Biden is also asking major oil companies to suggest how to bring back idled refining capacity when they meet with Energy Secretary Jennifer Granholm on Thursday.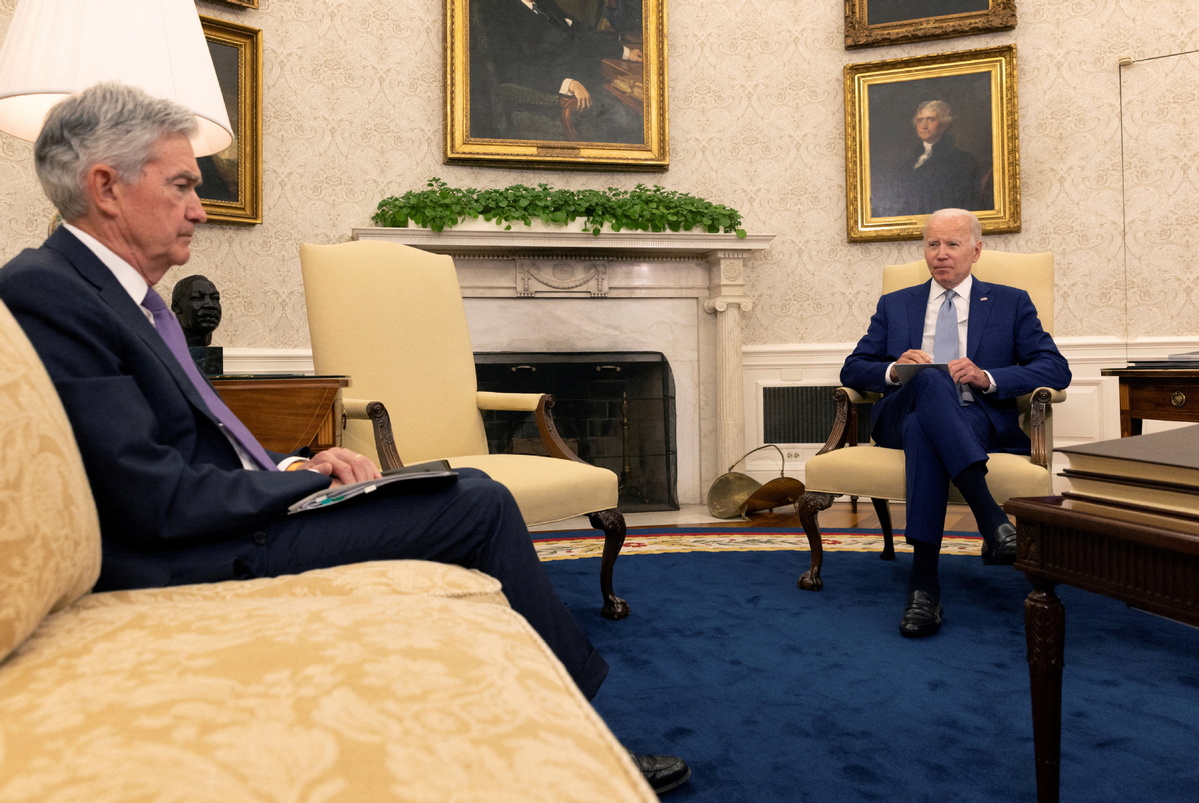 The administration says the main causes of high prices are the impact of Russia's military operation in Ukraine, and oil companies reaping high profits as gasoline demand rises as the COVID-19 pandemic recedes. Prices have accelerated since the conflict.
The Consumer Price Index was 8.6 percent in May, a 40-year high, which prompted the Fed to make a significant 0.75 percent rate hike last week, with another one forecast for July.
Powell delivered the Fed's semiannual monetary policy report Wednesday to the Senate Committee on Banking, Housing, and Urban Affairs.
Senator Elizabeth Warren, a Massachusetts Democrat, quizzed Powell on interest rate increases. "Will rate hikes bring down food prices?" she asked. "I wouldn't say so, no.
"You know what's worse than high inflation with low unemployment? High inflation and a recession with millions of people out of work. I hope you consider that before you drive the US economy off a cliff," she said.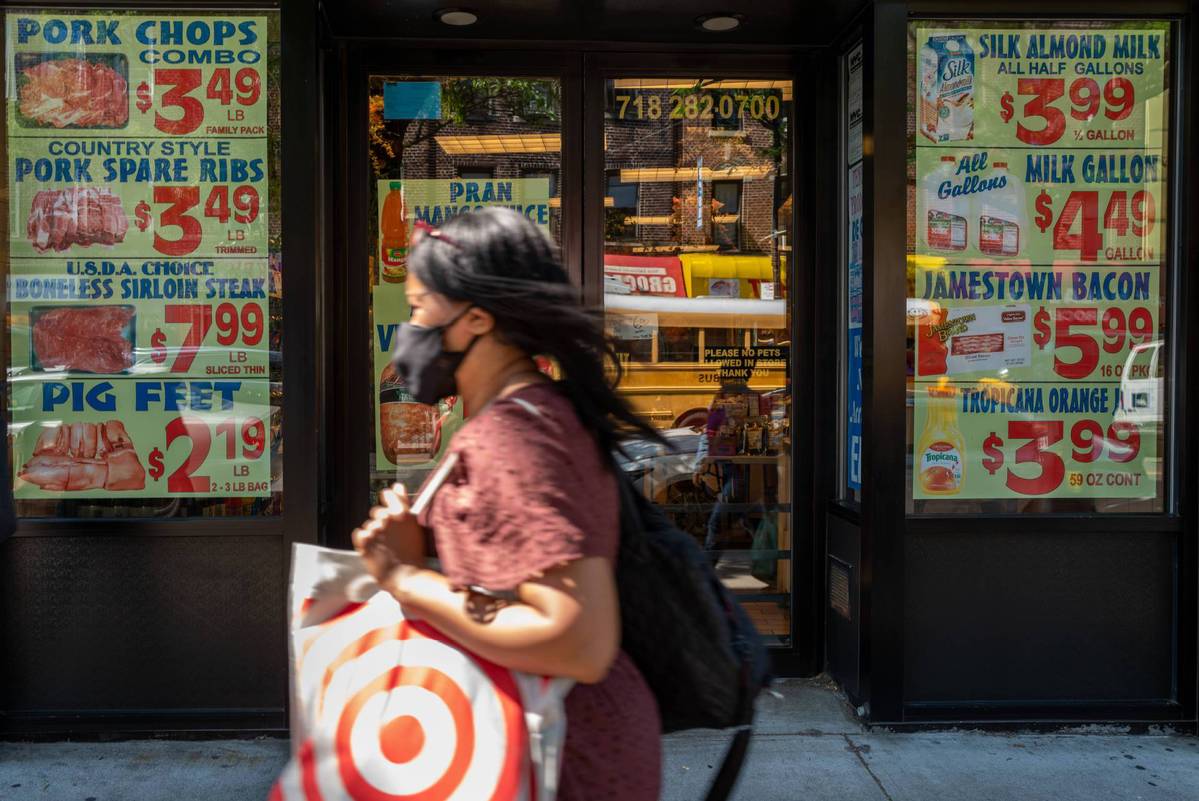 A suspension of the 18.4-cent per gallon federal gasoline tax and 24.4-cent diesel tax would require congressional action.
"It sounds like something is being done to lower gas prices, but there's not a whole lot of there," Garrett Golding, a business economist at the Federal Reserve Bank of Dallas, told The New York Times.
Response on Capitol Hill to suspending the taxes was lukewarm.
Some Democrats, including House Speaker Nancy Pelosi, worry oil companies and retailers may keep much of the savings. "We will see where the consensus lies on a path forward for the president's proposal in the House and the Senate," Pelosi said.
Representative Peter DeFazio, an Oregon Democrat who chairs the House Committee on Transportation and Infrastructure, said a federal gas-tax holiday would provide "minuscule relief" and deplete needed infrastructure funds.
The tax suspension would cost the Highway Trust Fund roughly $10 billion in revenue.
"I'm going to be working against it. I have the largest committee in Congress, so we'll see," DeFazio said, adding that he preferred a tax on oil companies' "windfall profits".
Senate Republican Leader Mitch McConnell called the gas-tax holiday a stunt. "This ineffective administration's big new idea is a silly proposal that senior members of their own party have already shot down well in advance," he said.
Granholm said she would press the companies on what can be done to increase supply and cut the cost of gasoline, as well as "ensure that they would pass" gas-tax savings on to consumers.
Three states have had gas-tax holidays so far, Connecticut, Georgia and Maryland. New York suspended its tax earlier this month, and Florida will suspend its in October.
"Pausing the federal gas tax will certainly provide near-term relief for US drivers, but it won't solve the root of the issue — the imbalance in supply and demand for petroleum products," a spokesperson for the American Fuel and Petrochemical Manufacturers said.
US gas prices are averaging near $5 a gallon as demand for motor fuels coincides with the loss of about 1 million barrels per day of processing capacity. In the last three years, many plants were closed when fuel demand plunged at the height of the pandemic.
Mark Zandi, chief economist at Moody's Analytics, said last week that "in the immediate near term, it is critical to stem the increase in oil prices". He suggested that Saudi Arabia, the United Arab Emirates and a nuclear deal with Iran could help to boost supplies and lower prices.
Republican lawmakers have tried to shift blame to Biden, saying he created a hostile environment for domestic oil producers, causing their output to stay below pre-pandemic levels.
On his first day in office, Biden suspended construction of the Keystone XL oil pipeline originating in Canada. The pipeline was long opposed by environmental groups.
Biden has accused the oil companies of making "more money than God".
Oil companies complain that the administration is blaming the industry for high prices.
Chevron CEO Michael Wirth sent a letter to the White House saying that the administration "has largely sought to criticize, and at times vilify, our industry".
Biden said of Wirth: "He's mildly sensitive. I didn't know they'd get their feelings hurt that quickly."
Agencies contributed to this story.