Battle lines drawn as strike halts UK
By JULIAN SHEA in London | CHINA DAILY | Updated: 2022-06-23 07:11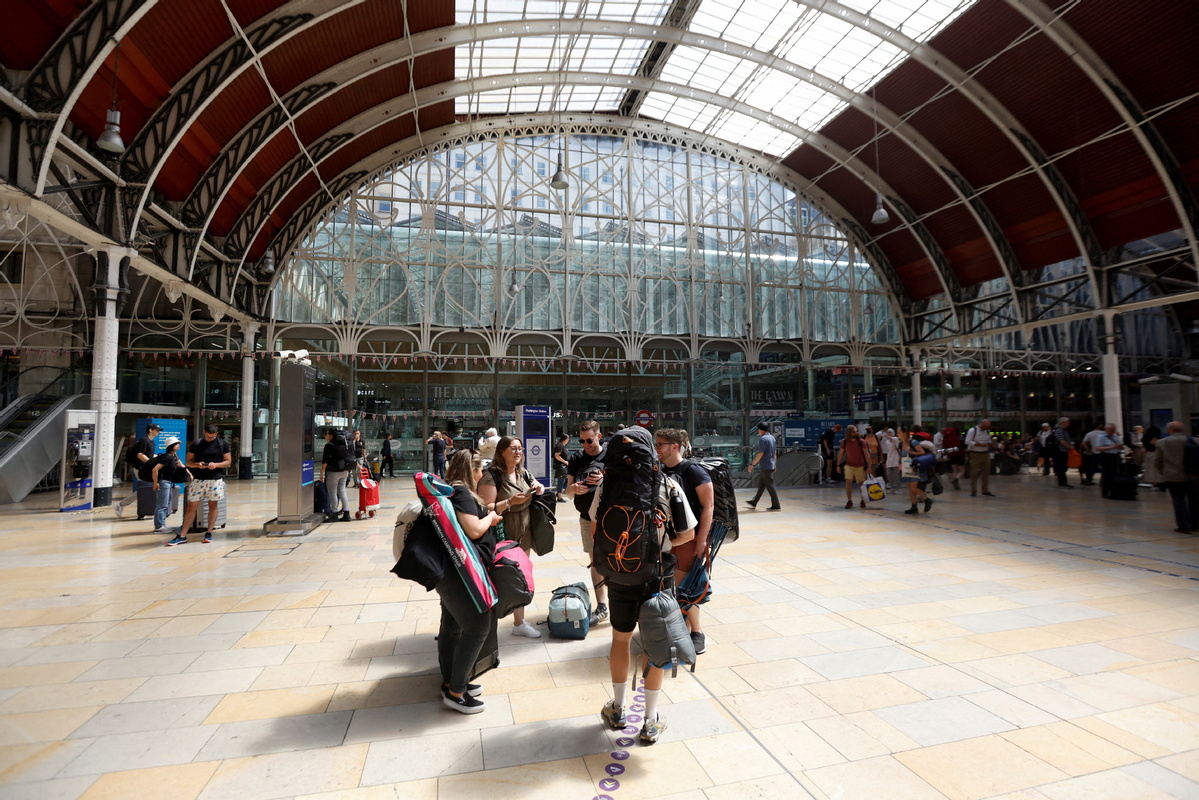 The first of three planned days of strikes on Britain's national railway network brought services to a near-total standstill on Tuesday, with signs that the disruption in a dispute over pay and jobs could be the first shot in a long industrial war. The rail disruptions are looming as the worst in more than 30 years.
The union said employers have offered no more than 3 percent, provided they accept job cuts and changed working practices as the rail sector continues to recover from the huge economic impact of the coronavirus pandemic, when passenger numbers and revenue streams plummeted and the government had to provide significant financial support.
Last-minute talks to avert the strikes, scheduled for Tuesday, Thursday and Saturday this week-with a significant impact on the days in between, broke up on Monday after RMT general secretary Mick Lynch said Network Rail had talked about compulsory redundancies.
Network Rail is the owner and infrastructure manager of the British railway network. It has no shareholders and it reports to the Department for Transport.
"They have issued me a letter saying that there are going to be redundancies starting from July 1," Lynch explained. "So rather than trying to come to an agreement in this dispute, they've escalated it by giving us formal notice of redundancy amongst our Network Rail members."
Soaring inflation
The strike comes as Britain's inflation rate hit 9.1 percent in May, a new 40-year high. Members of the RMT want a pay rise of at least 7 percent to deal with the cost of living crisis.
Britain's Deputy Prime Minister Dominic Raab said on Wednesday that the government could not allow "militant" unions to win over rail strikes, warning that their demands could lead to an inflationary spiral.
"We can't allow, the unions, in this very militant way that they've proceeded, to win this argument because it will only hurt the poorest in our society," Raab said.
Speaking to the Cabinet on Tuesday, Prime Minister Boris Johnson called the strikes "wrong and unnecessary", and hinted to the public that the government would not change its position, despite the likelihood this could lead to more strikes.
"These reforms, these improvements in the way we run our railways are in the interests of the traveling public, they will help to cut costs for farepayers up and down the country," he said.
Lynch told the BBC that his workers apologized to the public for having to take action and cause disruption, but said the government had actively prevented employers and the union from reaching a settlement, a claim rejected by ministers.
Transport Secretary Grant Shapps called demands for him to be at the negotiating table "a stunt", adding that there was a "pay offer on the table, the door is open".
Agencies contributed to this story.
julian@mail.chinadailyuk.com