Biden should show courage to reverse course set by his predecessor
Share - WeChat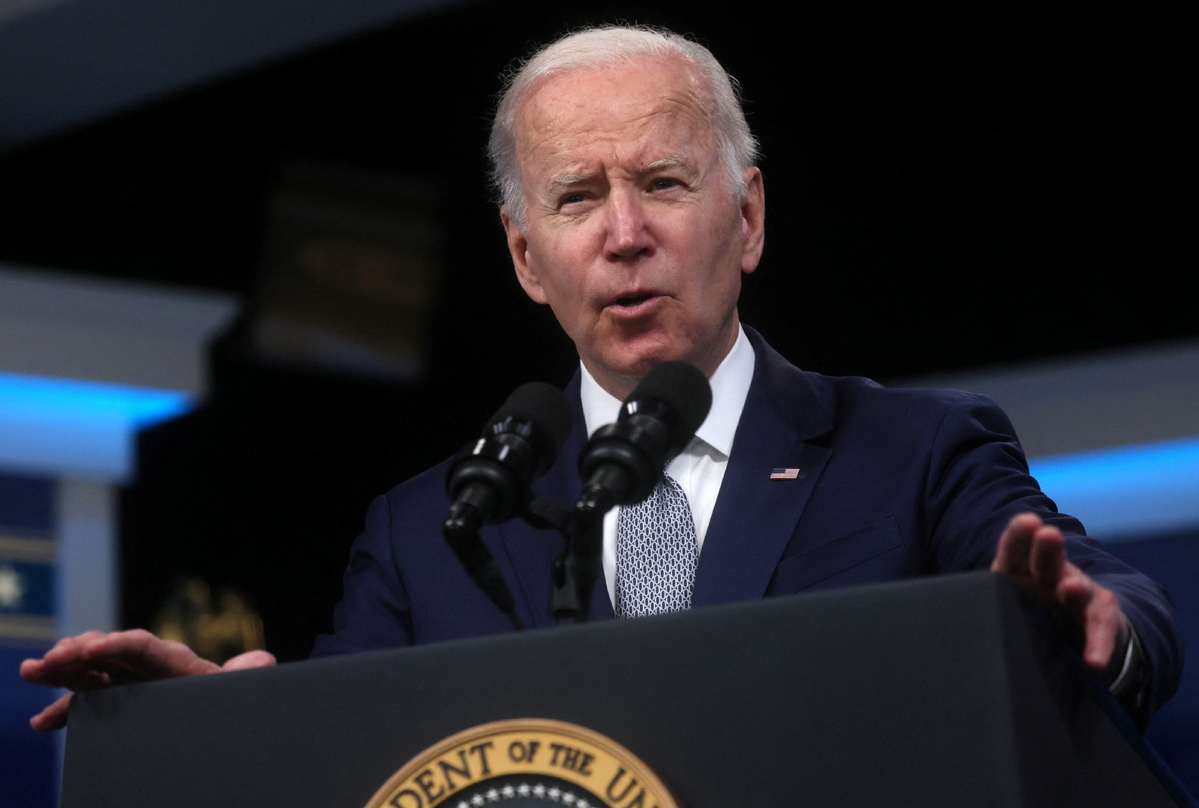 In a tweet on Tuesday, US President Joe Biden said that the United States is in a stronger economic position today than any other country, and claimed that independent experts have projected the US economy could grow faster than China's this year, which hasn't happened since 1976.
His tweet is clearly aimed at deflecting domestic criticisms of his mishandling of the economy, which has resulted in high inflation and soaring gas and food prices. According to a Gallup poll in May, only 16 percent of the respondents said they are satisfied with the way things are going in the country while 83 percent said they are dissatisfied.
Biden has tweeted numerous times, praising his own "achievements". But the use of China as a comparison reflects his unconscious acknowledgment of China's phenomenal economic growth over the past decades, which he talked about publicly five years ago as US vice-president.
Looking back, the eight years of the Barack Obama administration, when I happened to be based in the US, seem like a "honeymoon" period for China and the US despite the many thorny issues between them.
During those years, China and the US advanced cooperation on climate change, which led to the inking of the Paris Agreement, and on nuclear non-proliferation and cyber security, as well as in tackling the Ebola outbreak in West Africa. The US sought Chinese investment at its SelectUSA summit and encouraged Chinese language learning including at the mushrooming Confucius Institutes across the US.
It was such a contrast to the Biden administration's current strategy of containing China at all costs. The unhealthy thinking seems to be that, if the US cannot catch up with China, it should try to check its rise by resorting to all means, fair and foul.
The White House's announcement this week that it will exempt the solar cells and modules imported from Cambodia, Malaysia, Thailand and Vietnam — but not those from China — from the punitive tariffs reflects such a toxic mindset. China is by far the world's largest solar photovoltaic panel, as well as solar cells and modules producer and could play a major role in helping solve the US' solar power generation problem.
It is also because of this toxic mindset, as well as the fear of being attacked by China hawks in the US, that Biden has not lifted the trade war tariffs his predecessor Donald Trump imposed on Chinese goods, despite having promised during his presidential campaign to do so.
In a Bloomberg column titled "Dust off that dirty word détente and engage with China" on Sunday, Niall Ferguson, a British scholar now based in the US, said he is amazed to see that Biden's foreign policy "fails the basic tests of strategic coherence and credibility" and "seems exceptionally poorly designed to serve the Democrats' domestic interests".
He argued that Biden's policy is not helping ease the inflation in the US, and criticized the continued Trump tariffs and attempts to decouple from China.
While criticizing partisan polarization, Ferguson said there is only one thing that scares him more, and that is the bipartisan consensus on checking China's rise as the foundation of US foreign policy.
Ferguson has also said that he hopes Biden would muster up enough courage, like what former president Richard Nixon did back in the early 1970s to reach out to China. But he doubted that Biden has enough wisdom and guts to do it.
China and the US have had serious disagreements since the Nixon years, but they still expanded their engagement to make the world a better and safer place. On the other hand, it's not difficult to see the dangerous scenario future generations could face if the US continues down the path of triggering a new "Cold War" against China.
By the way, the World Bank forecast on Tuesday that China's GDP is expected to grow 4.3 percent this year, compared with the US' 2.5 percent. So those unnamed "independent experts" could just be wrong.
The author is chief of China Daily EU Bureau based in Brussels. chenweihua@chinadaily.com.cn
Most Viewed in 24 Hours
China Views