Chinese luxury brands can help boost domestic consumption
Share - WeChat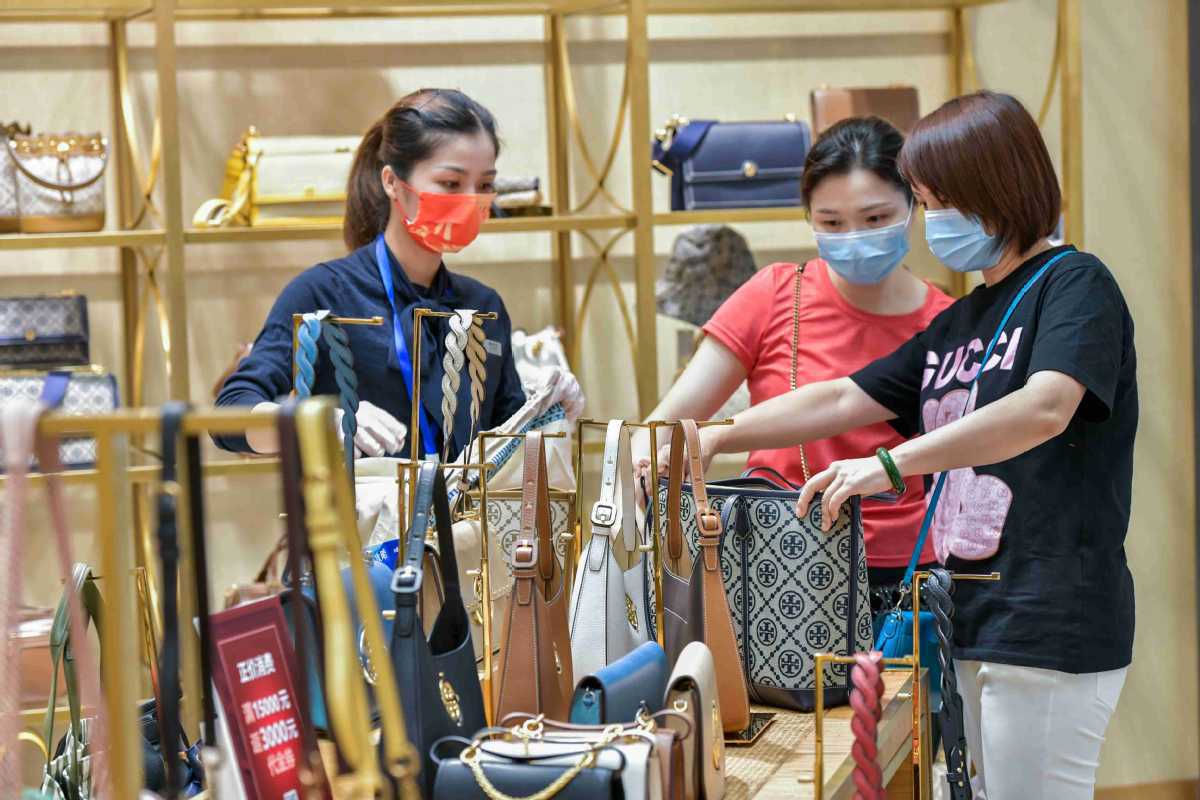 Editor's note: More than four decades of reform and opening-up have not only turned China into the world's second-biggest economy but also changed people's attitudes toward luxuries. A veteran journalist with China Daily takes a look at some of these changes.
Even when the COVID-19 pandemic compelled most of us to stay at home, some people managed to fly or take a ferry to Hainan province to enjoy the golden beaches, fresh air and the sea. Data show more than 81 million people visited Hainan in 2021, up 25 percent year-on-year.
Most of the visitors shopped at the duty-free stores that have become the island province's top attraction. In fact, many visit Hainan not to enjoy the sun and the sand but to buy luxury goods at the duty-free outlets.
Many Chinese people today dream of owning some luxury products, such as handbags, jewelry and watches, prompting almost all global luxury brands to open shop in China. Even in third-tier cities, big names such as Chanel, Gucci and Fendi have opened outlets to meet the demands of an increasing number of consumers and make more profits.
According to reports, luxury goods worth 346 billion yuan ($51.86 billion) were sold in China in 2021, an increase of 48 percent year-on-year. Some reports say China has become the world's biggest market for luxury goods, and still has potential for further growth.
When I was a kid, bikes, clocks, sewing machines and radios were considered luxury goods. At the start of reform and opening-up in the late 1970s, telephones, TV sets and refrigerators became "dream products".
When the Chinese people had money to spare, thanks to the country's rapid economic development, and walked into luxury brand stores in Chinese cities, they often found that goods were more expensive than in the European markets. More often than not their visits to such stores ended up as window shopping and price comparing.
So when traveling abroad, they lightened their wallets shopping for luxury goods. As a result, Chinese tourists today are ranked among the top groups in terms of purchasing power.
Years ago when I visited Paris, my wife asked me to buy her a Louis Vuitton handbag. So I went to Gallerie Lafayette and found that 95 percent of the customers there were Chinese. Many of them randomly chose the bags and happily paid the bill. I bought one for more than $1,000, and gave it to my wife as a gift. I've seen her using it a couple of times but don't know where it is now.
The price difference not only encouraged Chinese tourists to purchase luxury goods when visiting other countries but also boosted a new business-dai gou, or purchasing on others' behalf. Some Chinese students and businesspeople in Europe, Japan and the Republic of Korea make money by buying bags, watches, dresses and cosmetics according to online orders and courier them to China.
For many years, it was believed that many Chinese people spent more than half of their shopping budget in foreign markets, which frustrated not only the consumers but also the authorities.
To encourage people to spend the money at home and reduce tax evasion, China's customs department tightened checks on luxury "imports". Soon, duty-free stores were opened in Hainan from where a visitor could buy goods worth 100,000 yuan a year. The pandemic which practically stopped outbound travel also contributed to the boom of Hainan's duty-free outlets, with the sector growing by over 80 percent last year.
But more measures should be taken to ensure the sustainable development of the booming luxury goods market, according to some experts. For example, tariffs on imported luxury products should be lowered to make their prices competitive, and those infringing on intellectual property rights should be duly punished.
And while young people need to be reminded of the virtues of rational consumption, Chinese entrepreneurs should be encouraged to create Chinese luxury brands, for none of the top global luxury brands is from China, though Moutai, which costs between several hundred yuan and 10,000 yuan a bottle, seems to have a good chance to squeeze into their ranks.
kangbing@chinadaily.com.cn
The author is former deputy editor-in-chief of China Daily.
Most Viewed in 24 Hours
China Views