Floral exhibition blooms at athlete village
Share - WeChat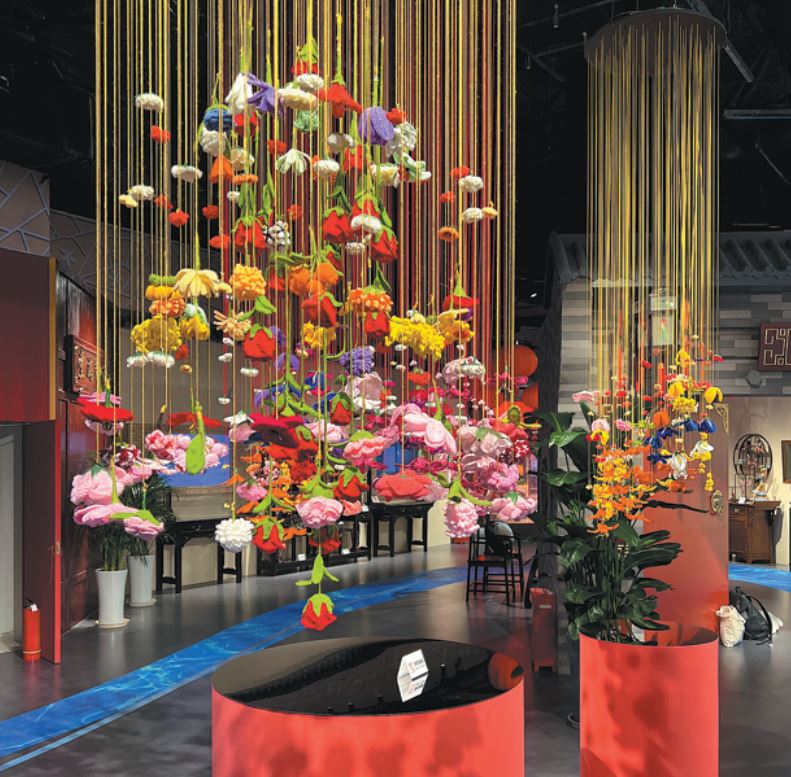 With Winter Olympic and Paralympic medalists to be presented with traditional crocheted wool bouquets during the Games, Beijing 2022 is also promoting China's so-called "intangible cultural heritage" in the form of an exhibition at the athletes' village.
Showcasing the integration of traditional Chinese culture and the Games, the exhibition promises to educate visitors and even offers them a chance to experience the skills and crafts on display.
A crocheted wool flowers art installation, entitled Woolen Flowers New Spring, is one of the most eye-catching exhibits.
The installation features over a thousand colorful woolen flowers suspended in the air while a cylindrical mirror booth below reflects the flowers, evoking the idea of infinite space. The "blooming" flowers also welcome in the new year.
The artwork is presented by Hengyuanxiang Group (HYX), a Shanghai-based company that keeps alive the city's traditional wool-knitting techniques.
As a sponsor of Beijing 2022, and the 2008 Summer Olympics, HYX specializes in knitting, clothing, and wool. It has produced 1,251 wool-knit bouquets which will be presented to medalists at the Games, in lieu of the usual fresh flowers.
As one of mankind's oldest handicrafts, wool knitting was introduced to China's coastal cities by foreigners around 100 years ago.
Chinese craftsmen combined traditional rope-tying techniques with knitting, greatly enriching the needlework and patterns to create the Shanghai wool-knitting technique. It was commonly used for knitting sweaters, scarves, and hats.
"The protagonist of the art installation displayed at the Beijing Winter Olympics Village is still the woolen flowers, which are handmade through crocheted wool like the presentation bouquets," said Chen Zhongwei, chairman and general manager of HYX.
"If the bouquet is a presentation of history and humanity, then this artwork focuses on the expression of contemporary art," he added.
The woolen flowers in the art installation were jointly produced by knitting enthusiasts across the country, and represent 28 types of flowers from around the world, including peony, rose, lily, and chrysanthemum.
The design team classified the woolen flowers into categories and meticulously balanced the visual elements, such as color, size, and shape.
"We have a special love of 'thread' in our country because there is an old Chinese saying, 'Love is just a thread in the quilt of our lives'," Chen explained. "We often use flowers to express ourselves because they best evoke the concept: 'Every form of beauty has its uniqueness, and it is precious to appreciate other forms of beauty with openness. If beauty represents itself with diversity and integrity, the world will be blessed with harmony and unity.'"