Health officials: Omicron slowing in parts of US
By MINLU ZHANG in New York | China Daily Global | Updated: 2022-01-14 11:09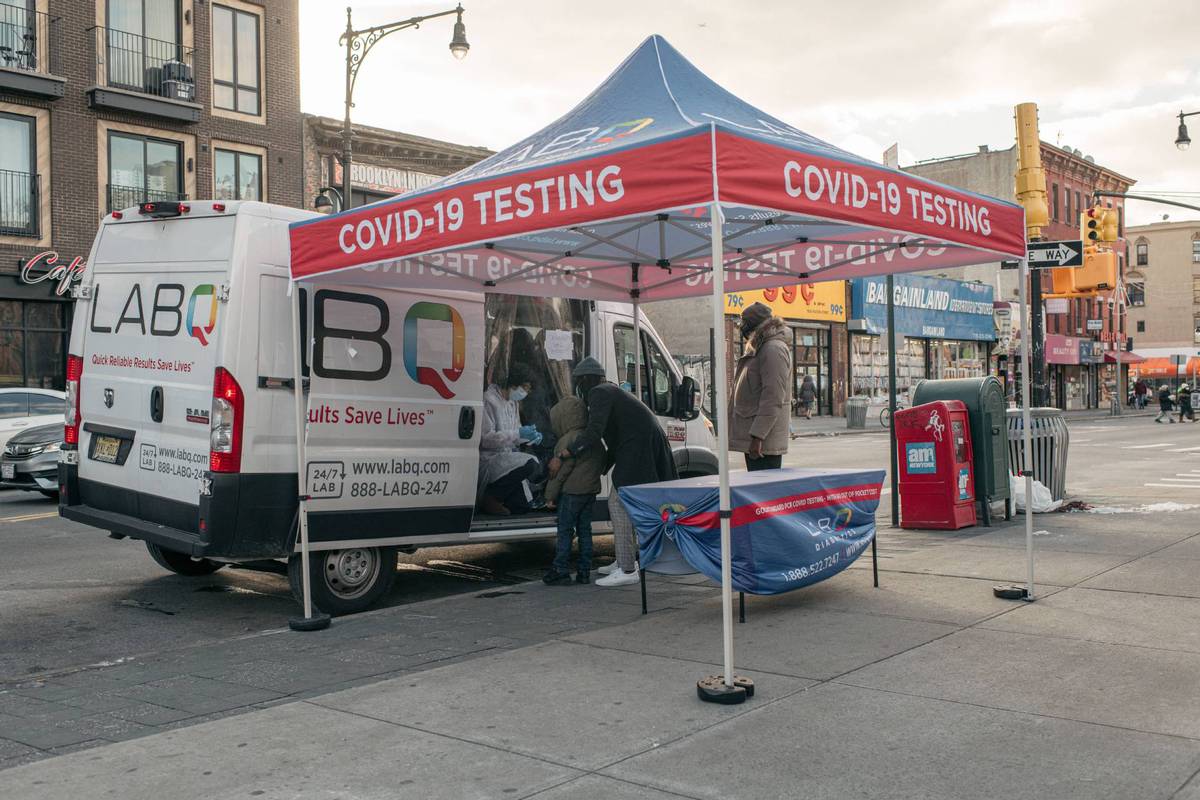 The latest wave of COVID-19 caused by the Omicron variant is showing signs of slowing down in the US, at least in the Northeast, according to health officials.
"You got a picture of an East Coast that's rapidly improving, a Southeast that's not far behind, a Midwest that's maybe a week behind the East Coast while the West Coast has not yet peaked," David Rubin at PolicyLab at the Children's Hospital of Philadelphia told The Washington Post on Wednesday. "Our assessment is we have likely peaked as a country."
In New York City, which emerged as an early epicenter of Omicron, new coronavirus cases have flattened in the past few days. As of Wednesday, nearly 59,000 new daily cases were reported. The test-positivity rate stood at 17.4 percent, according to the data from the New York state Health Department, marking the third straight day that fewer than 1 in 5 tests came back positive in New York.
The positivity rate of the city was 16.1 percent as of Wednesday, according to the health department. Although the number is still far from the 1 percent to 1.5 percent that the city was reporting two months ago, it's a drastic reduction from the reported rates that have topped 30 percent in the last few weeks.
"Looks like we may be cresting over that peak," New York Governor Kathy Hochul said at a news conference Tuesday. She said the rates of tests returning positive and the increase in cases seem to be slowing, particularly in New York City.
"They're still high, but we are not at the end, but I want to say that this is, to me, a glimmer of hope, a glimmer of hope in a time when we desperately need that," Hochul said.
The number of new coronavirus cases is also leveling off in New Jersey and Maryland. In New Jersey, the seven-day average of cases peaked at 31,090 on Jan 8 and dropped to 25,060 as of Wednesday. Maryland saw its seven-day average cases peak at 13,300 on Jan 6; the number dropped to 11,900 as of Wednesday.
The amount of the coronavirus levels detected in Boston-area wastewater is also falling. Those levels have been a leading indicator of case trends in the past. The figure has dropped by about 40 percent since its peak just after New Year's Eve.
Ali Mokdad, a professor of health metrics sciences at the University of Washington, told The Associated Press that he believes the true number of the US cases already peaked last week. "It's going to come down as fast as it went up," he predicted.
Some health experts also said the news that the UK appears to have passed the peak of the latest wave offers hopeful signs for countries such as the US.
But some medical experts said it is too early to be confident that the Omicron wave has peaked and warned that there may continue to be high numbers of new cases and hospitalizations.
"The virus keeps surprising us in the United States," Dr Catherine Troisi, infectious diseases epidemiologist at UT School of Public Health in Dallas told Fox 4 News.
President Joe Biden said Thursday he is directing the purchase of an additional 500 million tests for distribution to Americans, doubling the government's previous purchase. But it is unclear when the tests will be available.
"We're on track to roll out a website next week where you can order free tests shipped to your home," he said, adding that people with medical insurance can also soon get reimbursed for the purchase of up to eight tests a month.
Biden also said that his administration will announce a plan next week to give free high-quality masks to millions of Americans to help protect them from the coronavirus.
The president also said he is sending 120 military medical personnel to six states where hospitals have been overrun by cases. About 1,000 US military medical personnel will mobilize next week to assist civilian hospitals hit hard by the omicron surge, the Pentagon said Thursday.
Active-duty physicians, medics and other service members will go to hospitals in New York, New Jersey, Michigan, Ohio, Rhode Island and New Mexico, Pentagon spokesman John Kirby said at a news briefing. They will join about 400 other active-duty troops and 15,000 National Guard members in 49 states who are already on similar missions.