'Flying Turk' ready to hit new heights
Share - WeChat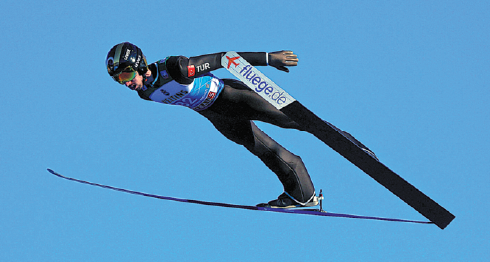 ISTANBUL-Ski jumper Fatih Arda Ipcioglu, 24, was born at the foot of Mount Palandoken in eastern Turkey.
The region in Erzurum province has since developed into an important winter sports center, and is now Ipcioglu's base as he chases his Olympic dreams.
Encouraged by his father, Ipcioglu started skiing at a very young age, and at 11 became a licensed club athlete in ski jumping.
Now known as the "Flying Turk", he will represent his country at next month's Beijing Winter Olympics, where landing a "perfect jump" is his "biggest dream".
"I am proud and happy to go to the 2022 Winter Olympics in China," Ipcioglu told Xinhua in an online interview from Austria, where he was competing in a World Cup event.
In ski jumping, the margin between failure and success is slim, Ipcioglu explained.
"You can easily make big mistakes with small details and miss the meters, or you can also perform a perfect jump by fixing these minor details," he said.
Ipcioglu has not failed to notice the strides made by China in the sport over the relatively short period of time that it has competed at elite level, and reckons the host could spring some surprises at Beijing 2022.
"They are on a beautiful road. I hope this will continue after the Olympics," he said.
"The ski jumping family is wide open to new countries and new athletes. The sport gets better as it grows and is shared."
Ipcioglu, meanwhile, has backed the comprehensive COVID-19 countermeasures that will be implemented at the Games.
"There are very strict precautions. I'm aware of these because we have been told about the rules beforehand, and we know what to do and what not to do," Ipcioglu said. "I appreciate them in that regard. It is a very tough method but a correct one."
Chinese authorities say they have imposed a series of steps to overcome the challenges posed by the Omicron variant of the virus to "deliver a streamlined, safe, and splendid Winter Olympic Games for the world".
Ipcioglu believes staging the Olympic Games on schedule in a safe environment is preferable to a postponement.
"Let me put it this way, the postponement of the Olympics would be destructive for the athletes because everyone works for the Games and completes their training accordingly," he stressed. "I hope that the competitions will take place in a healthy environment, and everyone will return home safely."
Beijing 2022 is set to be one of the most innovative Games in Olympic history, with organizers promising the use of environmentally friendly technology, green energy, cloud broadcasting, 5G, and augmented reality tech.
"That is, of course, a beautiful thing as the Olympics also provide a platform to showcase the host country's innovations and technology to the world," he said.
At the end of the interview, Ipcioglu had a simple message:"Beijing 2022, we are coming!", before adding:"Together for a shared future."
Xinhua