Japan set to enhance security cooperation with other nations
China Daily Global | Updated: 2022-01-14 09:17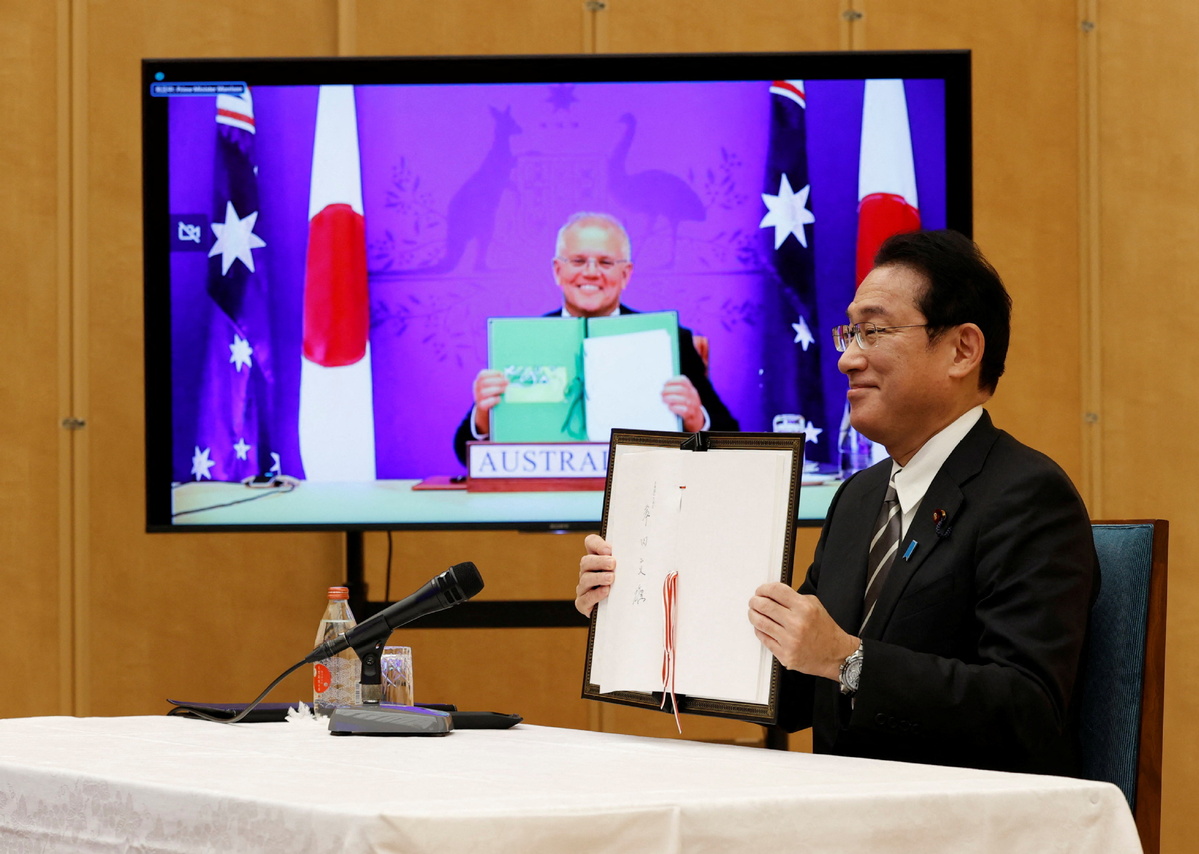 Observers: Revised strategy could have huge ramifications
Japan has gotten off to a quick start this year in pushing for defense cooperation with other nations, and the country's top officials have called 2022 crucial for Tokyo's security policies.
Tokyo signed the Reciprocal Access Agreement with Canberra on Jan 6 - the first defense pact Japan has sealed with any country other than the United States.
Australian Defence Minister Peter Dutton wrote in The Australian newspaper, "The treaty will enable more frequent and sophisticated training exercises and operations between the Australian Defence Force and the Japan Self-Defense Forces, enhancing interoperability in the process.
"In streamlining administrative processes, the RAA also speeds up physical force deployment into each other's territory," Dutton wrote. "And it will complement new mechanisms for the Japan SDFs to protect the ADF's weapons, equipment and assets in situations short of armed conflict."
On Jan 7, Tokyo and Washington signed a deal on collaborating more closely in research and development of defense-related technologies, including ways to counter threats from hypersonic weapons.
US Defense Secretary Lloyd Austin, who joined US Secretary of State Antony Blinken, Japanese Foreign Minister Yoshimasa Hayashi and Japanese Defense Minister Nobuo Kishi for virtual "2+2" talks on Jan 7, said there is "an extraordinary level of mutual cooperation across the full spectrum of military capabilities".
Japan resolved to examine all options necessary for national defense-including "capabilities to counter missile threats".
Japan and the US also signed a new five-year agreement on sharing the cost of the US military presence in Japan, which Blinken said will enable greater investment in the readiness of both countries' forces and improve their ability to operate together.
The Japanese government is expected to issue a new National Security Strategy, the first such revision since that document was adopted in 2013. The NSS will frame the National Defense Program Guidelines and the Medium-Term Defense Program, which are also expected to be revised this year.
Observers said the revisions to the three documents could have huge ramifications far into the future for Japan's foreign and defense policies.
Japan will also seek to reach such a pact with Britain, with which negotiations were launched in October, and France, Kyodo News Agency reported.
Japan and Australia are part of the Quadrilateral Security Dialogue framework, which also includes the United States and India.
Japanese Prime Minister Fumio Kishida voiced eagerness to strengthen ties with the "fellow democracies" in his New Year news conference on Jan 4.
It's clear that Japan's upscaled defense relationships with other countries focus on China and the Democratic People's Republic of Korea. Kishida has said that the security situation around Japan is rapidly changing and that "the reality is, it's the most severe it has ever been".
Japanese newspaper Asahi Shimbun called for a comprehensive approach that embraces diplomacy and economic ties with China rather than depending excessively on a military approach, which could heighten tensions and even trigger a contingency.
Responding to the US and Japan's "2+2" virtual meeting, as well as talks between Tokyo and Canberra, Beijing has lodged solemn representations with relevant countries for interfering in China's internal affairs and fabricating disinformation to discredit China.
Foreign Ministry spokesman Wang Wenbin said that maintaining peace, stability and development in East Asia and the Asia-Pacific region requires upholding true multilateralism, respecting the open and inclusive regional cooperation framework formed over the years, and taking the road of solidarity, dialogue and cooperation.
"The United States, Japan and Australia talk about freedom, openness and inclusiveness, while in reality, they are forming a clique against other countries, flexing their muscles and making military threats, which runs counter to the trend of peace and development in the region and contradicts their claim of opposing intimidation and coercion," Wang added.
The Japan Times said that Prime Minister Kishida will have to balance his desire to strengthen the US alliance with Tokyo's ties with China-its top trading partner.
"With Beijing, Kishida will also need to find a way to strike a balance and maintain a sound Sino-Japanese relationship. He could find an opening this year, as the neighbors mark the 50th anniversary of diplomatic ties," the newspaper said.
Meng Xiaoxu, a researcher at the Institute of Japan Studies of the Chinese Academy of Social Sciences, said Japan always plays up the severity of the regional security situation and threats from neighboring countries as a ruse for increasing its own military muscle.
Yuan Zheng, deputy director of the Institute of American Studies of the CASS, said the situation in the Asia-Pacific region is subject to the state of China-US relations. The administration of US President Joe Biden is likely to continue a hardline policy toward China, since midterm elections will be held in the US this year, but China will not yield on its national interests, Yuan said.
Wei Zongyou, a professor at the Center for American Studies of Fudan University in Shanghai, said the Quadrilateral Security Dialogue framework fuels strategic suspicion and competition between China and the US.