Norway turns toward the left after general election
By JULIAN SHEA in London | China Daily Global | Updated: 2021-09-15 09:43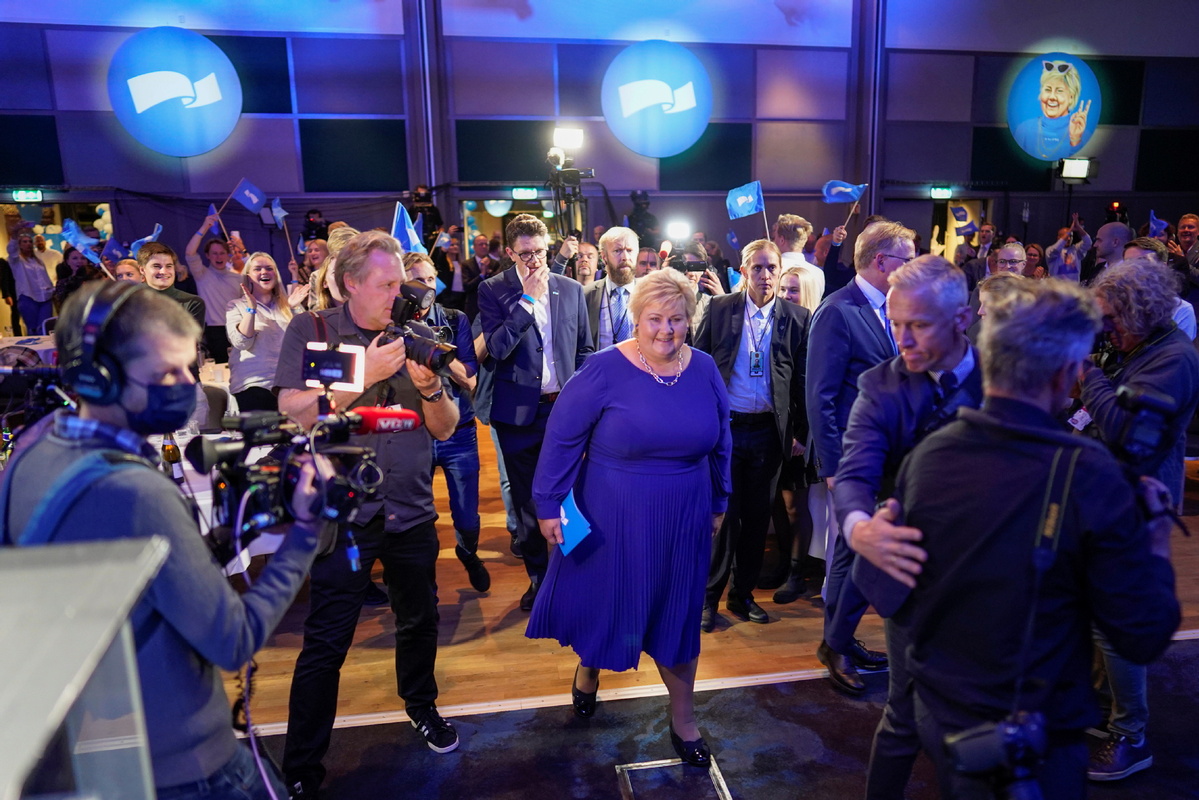 Eight years of Conservative government in Norway have come to an end after Prime Minister Erna Solberg conceded defeat to the opposition Labour Party in the country's general election, setting up the likelihood of a center-left coalition government, which will mean all the Nordic countries are now led by center-left parties.
"The Conservative government's work is finished for this time around," Solberg told supporters.
"I want to congratulate (Labour leader) Jonas Gahr Store, who now seems to have a clear majority for a change of government."
With more than 99 percent of votes counted, national broadcaster NRK predicted that the Labour Party was on course to win 48 of the 169 seats in Parliament.
Nearly 3.9 million Norwegians were eligible and more than 1.6 million of them voted in advance, according to Norway's election commission. Turnout was 76.5 percent, down from more than 78% last time.
"As the biggest party, we will make sure that Norway will get a new government and a new course," Store told party members. "In the coming days, I will invite the leaders of all parties who want a change."
The Guardian reports that his preferred coalition partners, the Centre Party and Socialist Left, would make up a slim majority bloc of 88 MPs.
However, there is division over the possibility of bringing in two smaller left-wing parties, the communist Reds, and the Greens. "We will take plenty of time to talk to the other parties, and we have respect for the fact that this has not been decided until it has been decided," Store added.
The main election issues in oil-rich Norway, which is not a member of the European Union, were climate change and the future of the country's fossil fuels industry.
Oil is Norway's biggest export and the country produces around 4 million barrels of oil equivalent per day, accounting for over 40 percent of export revenues. The Greens want to see production shut down over the coming years, to reduce the country's carbon emissions.
The outgoing Conservative government and incoming Labour one back a gradual retreat from the sector, which makes up 14 percent of Norway's GDP, but do not agree with the Greens over how to do it, saying related industries need more time to adapt for a new more eco-friendly future.
"I believe that calling time on our oil and gas industry is the wrong industrial policy and the wrong climate policy," Store said before the election result was known.
His party's energy spokesman Espen Barth Eide told the Agence-France Presse that fossil fuels were on the way out anyway, so legislation to speed up the process was not necessary.
"The demand for oil is on a downward path," he said. "We don't need to decree it, but instead (use the revenue) to build bridges to future activities."