Blinken pressed on Afghanistan drone strike
By HENG WEILI in New York | China Daily Global | Updated: 2021-09-15 09:33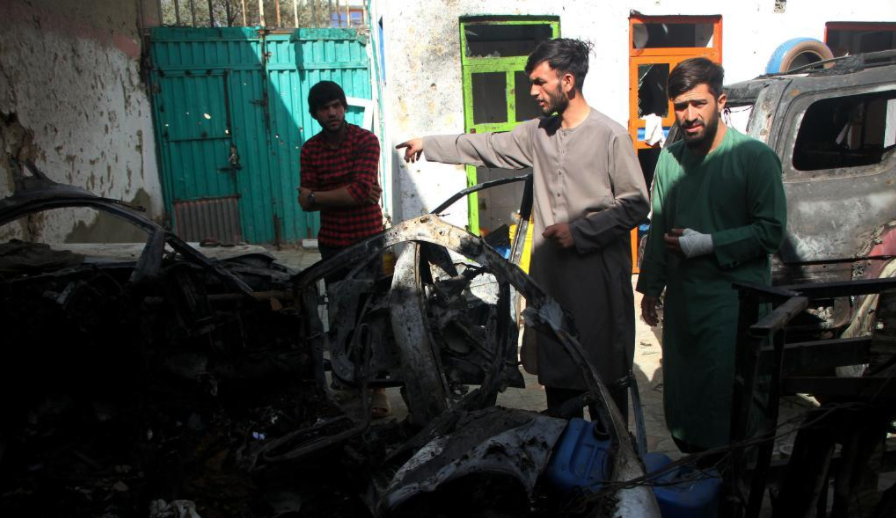 A drone strike suspected in the killing of an aid worker and his family along with ongoing humanitarian issues in Afghanistan were some of the questions posed to US Secretary of State Antony Blinken, who made his second appearance in a Washington hearing in as many days on Tuesday.
Senator Rand Paul, a Kentucky Republican, asked Blinken during the Senate Foreign Relations Committee hearing whether the US knows if whom it "droned" last month was "an ISIS-K terrorist or an aid worker".
Blinken told the hearing that the identity of the person was still being reviewed.
"You think you'd kind of know before you off somebody with a Predator drone whether he's an aid worker or he's ISIS-K," Paul replied.
"I see these pictures of these beautiful children that were killed in the attack," the senator continued. "If that's true, and not propaganda, if that's true, guess what: Maybe you're created hundreds or thousands of new potential terrorists from bombing the wrong people."
Shifting next to the US military equipment left behind at Bagram Air Base, Paul suggested the administration should have bombed the base instead.
"Once they took all of our stuff, we should have said, 'You got 20 minutes to get out of it because we're going to blow it all up,'" Paul said.
"Then you would have sent a message of strength. Instead, we found somebody who we're not sure whether it was an aid worker or an ISIS-K operative. … That's not sending a signal of strength, and in the end, there will be more blowback from it if you killed an aid worker on accident," he continued.
The Aug 29 drone strike Paul referred to in the capital Kabul was launched after a suicide-bomb attack on Aug 26 outside the Kabul airport that killed 13 US service members and more than 160 Afghans.
The New York Times reported that a man who worked for a US aid group, Zemari Ahmadi, and nine members of his family — including seven children — were killed in the strike.
Paul also expressed concern over whether humanitarian aid would reach civilians.
"They (the Taliban) now have $80 billion worth of weapons, 350,000 automatic weapons. Are we really naïve enough to believe that we're just going to keep sending charity to Afghanistan, and they're not going to interrupt it? I think that's a foolish notion," Paul said.
Senator Robert Menendez, a New Jersey Democrat and the chairman of the committee, threatened to subpoena Secretary of Defense Lloyd Austin and other officials to make them testify about the chaotic US withdrawal, which concluded on Aug 31.
"A full accounting of the US response to this crisis is not complete without the Pentagon — especially when it comes to understanding the complete collapse of the US-trained and funded Afghan military," Menendez said.
Blinken, who appeared before the House Foreign Affairs Committee on Monday, called on the international community "to act with one voice" on civilian issues, such as the treatment of women, by working through nongovernmental organizations and United Nations agencies.
Senator Jeanne Shaheen, a New Hampshire Democrat who has long fought to protect advances made by Afghan women and girls, said presidents and lawmakers of both parties shared the blame.
"Let's stop with the hypocrisy of who's to blame; there are a lot of people to blame, and we all share in it," she said, her voice rising as she pointedly alluded to former president Donald Trump and his second secretary of state Mike Pompeo, who negotiated the 2020 peace deal with the Taliban separate from the Afghan government, with no assurance that civilian rights would be respected.
"I want to know where that outrage was during the negotiations by the Trump administration and former secretary Pompeo when they were giving away the rights of women and girls, and when secretary Pompeo came before this committee and blew off questions about what they were doing to pressure the Taliban to have women at the negotiating table for that peace treaty," Shaheen said.
Blinken replied that he would soon appoint a senior official to oversee US policy toward Afghan women and girls.
The secretary again blamed the Trump administration for its February 2020 peace deal with the Taliban — an Islamic fundamentalist group that was removed from power when the US invaded in October 2001 in response to the 9/11 terrorist attacks — saying it had limited what Biden could do, as well as unexpected collapse of the Afghan government and security forces that led to the Taliban retaking the mountainous Asian country on Aug 15.
"Even the most pessimistic assessments did not predict that government forces in Kabul would collapse while US forces remained," he said. "They were focused on what would happen after the United States withdrew, from September onward."
Blinken said the administration would hold the Taliban, which protected Osama bin Laden and top members of his al-Qaida network as they plotted the 9/11 strikes, to their word not to allow Afghanistan to be used again as a base for terrorist attacks.
The secretary said ending America's longest war was "the right thing to do" after 20 years. He noted that despite severe challenges, the US and its allies managed to evacuate some 124,000 people.
"The evacuation was an extraordinary effort — under the most difficult conditions imaginable — by our diplomats, military and intelligence professionals," he said.
Senator Rob Portman, an Ohio Republican, said "to say that it was not a sign of weakness the way we left, I mean, I don't know who you're talking to. If you're talking to our allies and NATO, they will say it was a sign of weakness. If you're talking honestly to our adversaries, they will certainly say it's a sign of weakness. As will terrorist groups around the world.
"So I hope the lesson we learned here isn't that this was the right way to leave," Portman said. "I hope the lesson we learned here is that there was a better way to leave. If the decision was made to pull out, it should not have been a precipitous, chaotic and unfortunately deadly departure.
"Bagram Air Base was shut down in the middle of the night with no notice to anybody," he continued. "So without the cover, literally, of close air support and other military support, yeah, it became extremely dangerous and chaotic, and we left a lot of people behind."
Portman said that as the ranking Republican on the Homeland Security Committee, he has learned that there were 18,000 applicants for special immigrant visas (SIVs).
"We got 705 out. You said earlier the overwhelming number of people who were at-risk got out," Portman said. "I don't think that's true."
"The best numbers we have is that about three-quarters of the people who were evacuated were not green card holders, were not American citizens, were not SIV applicants," Portman said.
In his opening statement to the committee, Blinken said the president was limited by the agreement that Trump had made.
"Had he not followed through on his predecessor's commitment, attacks on our forces and those of our allies would have resumed, and the Taliban's nationwide assault on Afghanistan's major cities would have commenced," Blinken said. "That would have required sending substantially more US forces into Afghanistan to defend ourselves and prevent a Taliban takeover, taking casualties — and with at best the prospect of restoring a stalemate and remaining stuck in Afghanistan, under fire, indefinitely."
The Associated Press contributed to this story.