CFA reins in league's big spenders
Share - WeChat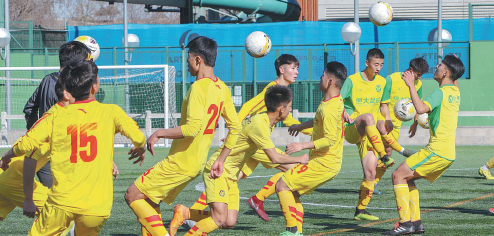 Stricter salary cap signals end to era of exorbitant wage bills and sharpens focus on developing homegrown stars
The Chinese Football Association has hammered the final nail in the coffin for domestic soccer's big-spending era by once more slashing salary caps in the country's three professional leagues.
The move follows similar cuts over the past two years as the CFA continues to shift its focus to developing homegrown talent following years of stagnation partly blamed on the influx of expensive big-name foreign stars.
Beginning next season and applicable through the 2023 campaign, domestic players' salaries in the toptier Chinese Super League (CSL) will be capped at 5 million yuan ($760,000) before tax-down from 10 million yuan (or 12 million yuan for China internationals) last term. In addition, clubs' total expenditure each season should not surpass 600 million yuan, including money spent on youth training and women's soccer.
Foreign players' wages in the CSL will be capped at 3 million euros ($3.3 million) before tax-down from last season's 3 million euros after tax. Each club's annual expenditure on imported players should not exceed 10 million euros before tax.
Clubs will be able to decide themselves whether naturalized stars like Guangzhou Evergrande's Brazil-born Ai Kesen (aka Elkeson) should be classified in the domestic or foreign bracket.
The budget-cutting measures have sparked fierce debate online, with Weibo topics "CFA imposes strictest salary cap" and "CFA president severely criticizes spending spree" viewed over 15 million times each by Tuesday morning.
Fans expressing support for the new salary cap backed the CFA's logic that smaller budgets will ease the financial burden on clubs, ensure the healthy development of China's professional leagues and encourage more homegrown talents to venture abroad to ply their trade.
Critics of the new policy argued that an exodus of talent to more lucrative leagues would affect the quality of play in the CSL.
'Not sustainable'
In recent years, Wu Lei has been China's sole representative in any of the world's major soccer leagues, although the former Shanghai SIPG striker currently finds himself in Spain's second tier following Espanyol's relegation from La Liga.
For the vast majority of Chinese players, opting for a career abroad has until now not made financial sense, given the rich rewards that have been available in the CSL.
Whether the new salary cap can encourage more Chinese players to follow in Wu's footsteps remains to be seen. In the short term, a foreign exodus appears more likely.
Brazil star Hulk and Israeli hotshot Eran Zahavi have already said goodbye to their respective teams (SIPG and Guangzhou R&F) this year, with fears growing that SIPG's former Chelsea star Oscar and Evergrande's ex-Barcelona midfielder Paulinho could follow.
According to the CFA, the average total expenditure by CSL clubs in 2019 was 1.17 billion yuan ($180 million), with domestic wage bills averaging at 5.53 million yuan, and foreign player salary totals averaging at 58.47 million yuan.
"The CSL has been acknowledged as the number one professional soccer league in Asia, in terms of brand awareness and in terms of attendance rates," Liu Yi, secretary general of the CFA, told Forbes.
"Out of that $180 million, 70 to 80 percent goes into the pockets of the players. And of that, about 70 percent is the salaries of foreign players. Everyone has realized this is not sustainable. It's a bubble and it's going to burst."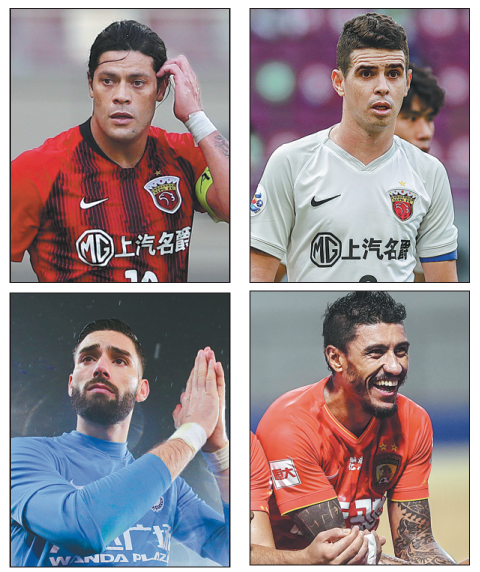 Tough penalties
To deter clubs from breaking the rules, the CFA has warned that teams who exceed the total expenditure cap within a 0-20 percent range will face a six-point deduction in the league. That penalty rises to 12 points for clubs spending 20-40 percent beyond the limit.
A nine-point punishment will apply to teams who breach the salary cap for either a domestic or foreign player. Bonus payments in violation of regulations will be punishable by a three-point deduction.
In the past, clubs have been accused of circumventing the rules by using so-called "yin and yang contracts"-deals which declare a smaller figure for the accounts, but in reality pay a player a much higher salary.
The CFA says clubs found guilty of this practice will now be relegated to the second tier, with the player in question subject to a two-year pitch ban.
"Our national teams at all levels have not qualified for any major global tournament for about two decades. But our investment in soccer is three times larger than Japan's J League and 10 times higher than South Korea's K League," said CFA president Chen Xuyuan.
"The average salary of our top-tier players is 5.8 times higher than players in the J League and 11.6 times higher than K League players.
"These are alarming numbers. Why have we still not awoken? Are we without conscience? And how can we develop in such a soccer environment?
"The salary cap will help the growth of domestic players and soccer youth training in China. Many major investors support the decision. I also talked to many players, most of whom want to have the chance to play in better foreign leagues. They are just worried if they can be assured of enough playing time."