Exhibition celebrates ancient print technique
By HAN BAOYI in London | China Daily Global | Updated: 2019-08-14 09:21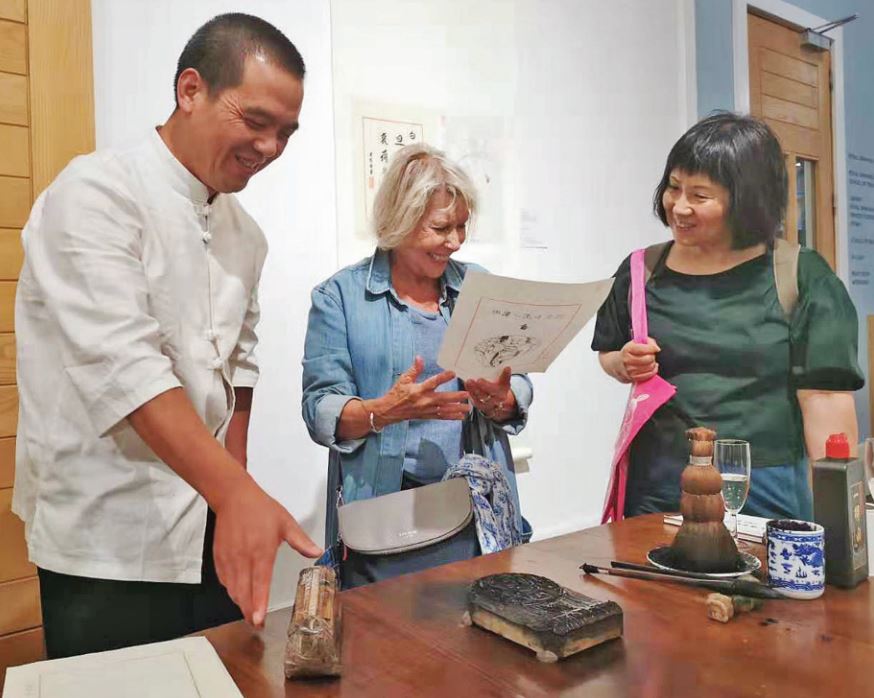 More than 200 Chinese woodblock printing artworks went on display at The Prince's Foundation School of Traditional Arts in London on Monday, giving visitors an opportunity to trace the history of woodblock printing, one of the four great inventions of ancient China which produced the world's first print culture.
The four-part exhibition shows the history of the ancient Chinese printing technique and demonstrates its development in modern society, as well as giving visitors an opportunity to try the technique themselves, to gain an understanding of the skill and the artistry of this traditional Chinese art.
The provider of the exhibits, Ten Bamboo Studio, is famous for its expertise in colored woodblock printing, which has been listed as an example of China's Intangible Cultural Heritage since 2014.
"Our founder, Hu Zhengyan, invented douban, woodblocks used for different colors, in the time of the Ming Dynasty (1368-1644), more than 400 years ago," said Wei Lizhong, director of the modern Ten Bamboo Studio. "Since then, artists started to print colorful works and printers can differentiate the subtlety of the original work."
At the opening ceremony of the exhibition, Yu Peng, minister counselor of cultural affairs at the Chinese embassy in London, said that the development of printing has never been isolated and the development of modern printing is the result of mutual learning between East and West.

"Civilizations have become richer and more colorful with exchanges and mutual learning," he said. "This exhibition shows the profound heritage of Chinese traditional culture and the wisdom of the Chinese people. It is a good opportunity to enhance Sino-UK cultural exchange."
Among the exhibits, the series of prints 24 Solar Terms is inspired by the 24 solar terms in the traditional Chinese calendar, and has combined traditional Chinese cultural elements including woodblock printing, Chinese calligraphy and ancient Chinese poetry.
Integrating painting, engraving and printing, woodblock printing originates from more than 1,200 years ago in China and is regarded as the world's earliest form of printing. It reached Europe around the 14th century and was said to be used on paper for old master prints and playing cards.
The exhibition is organized by the Ancient Books Preservation and Conservation Association of China, and co-organized by The Prince's Foundation School of Traditional Arts, and Hangzhou Ten Bamboo Studio from China.
Located in Hangzhou, China, Ten Bamboo Studio is dedicated as an art museum, art studio, and educational center that revives, preserves, and teaches traditional woodblock printing.