The whole world should know about John Rabe, hero of Nanjing
Share - WeChat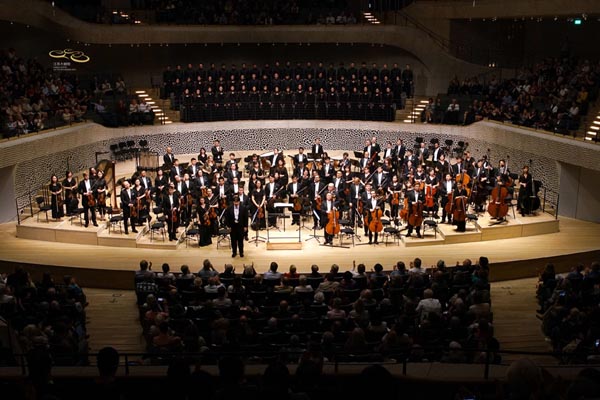 I went to Hamburg last weekend to cover the concert version of the opera The Diaries of John Rabe in the landmark Elbphilharmonie, but to me it was really an emotional trip to pay tribute to Rabe who was born in the German port city on Nov 23, 1882.
Rabe went to China in 1908 and lived there for 30 years. In the six weeks from December 1937, he and 20 other foreigners sheltered more than 200,000 Chinese in the Nanjing Safety Zone they had established, saving them from the Nanjing Massacre when the Imperial Japanese Army killed 300,000 Chinese civilians and unarmed soldiers in the then Chinese capital.
While Rabe is well known to many Chinese as a hero, few people outside China have heard his name, including people in his hometown Hamburg despite the movies and books highlighting his heroism.
In comparison, Oskar Schindler, a German industrialist, is pretty well known for saving the lives of 1,200 Jews during the Holocaust by hiring them in his enamelware and ammunitions factories in German-occupied Poland during World War II, thanks largely to the 1993 Hollywood movie, Schindler's List.
Rabe and Schindler are undoubtedly heroes despite both being members of the Nazi Party. Rabe deliberately used his Nazi Party affiliation to effectively negotiate with the Japanese embassy and military in order to protect more Chinese. So nothing is really in black and white as some people like to think. There are always shades of gray in this world.
The opera staged by the Jiangsu Center for Performing Arts in Berlin, Hamburg and Vienna in the past week are to express the deep gratitude of the Chinese people to Rabe, who exhibited extraordinary humanism more than 81 years ago.
Before the show, I was really unsure how it would be received by the largely German audience. So it came as a big surprise when the audience's applause lasted about 20 minutes in five curtain calls.
Later, I was told that some in the audiences, including children, were in tears after watching the opera in Berlin.
The Germans are ashamed of their Nazi past, which caused untold sufferings to other nations and the German people themselves. But Rabe was one of those who made them proud by saving so many Chinese lives during those dark days.
In fact, Rabe did much more than just save Chinese lives. His diaries recorded the atrocities he witnessed by the Imperial Japanese Army in Nanjing in those days, becoming a powerful evidence to show those people who still deny the Nanjing Massacre.
Interviewing John Rabe's grandson, Thomas Rabe, gave me occasion to directly express my gratitude to the Rabe family. When he went on stage during the curtain call, it was accompanied by a thunderous applause from the audience.
The Chinese have always revered Rabe as a great humanitarian, a hero. According to Chinese American author and journalist Iris Chang's book The Rape of Nanking, when Nanjing residents learned of the very dire situation of the Rabe family in 1948 in occupied Germany, they raised a large sum of money, equivalent to $2,000, or $21,000 in 2019's terms-and the then Nanjing mayor himself went to Germany via Switzerland where he bought a large amount of food for the Rabe family.
In 1997, Rabe's tombstone was moved to Nanjing from Berlin, where he died in January 1950. In 2005, his former residence in Nanjing was renovated and now houses the John Rabe and International Safety Zone Memorial Hall.
Rabe's heroic story deserves to be known all over the world.
The author is chief of China Daily EU Bureau based in Brussels.
chenweihua@chinadaily.com.cn
Most Viewed in 24 Hours
China Views