Student's zeal for China takes him many places
By JUDY ZHU in New York | China Daily Global | Updated: 2019-04-19 22:54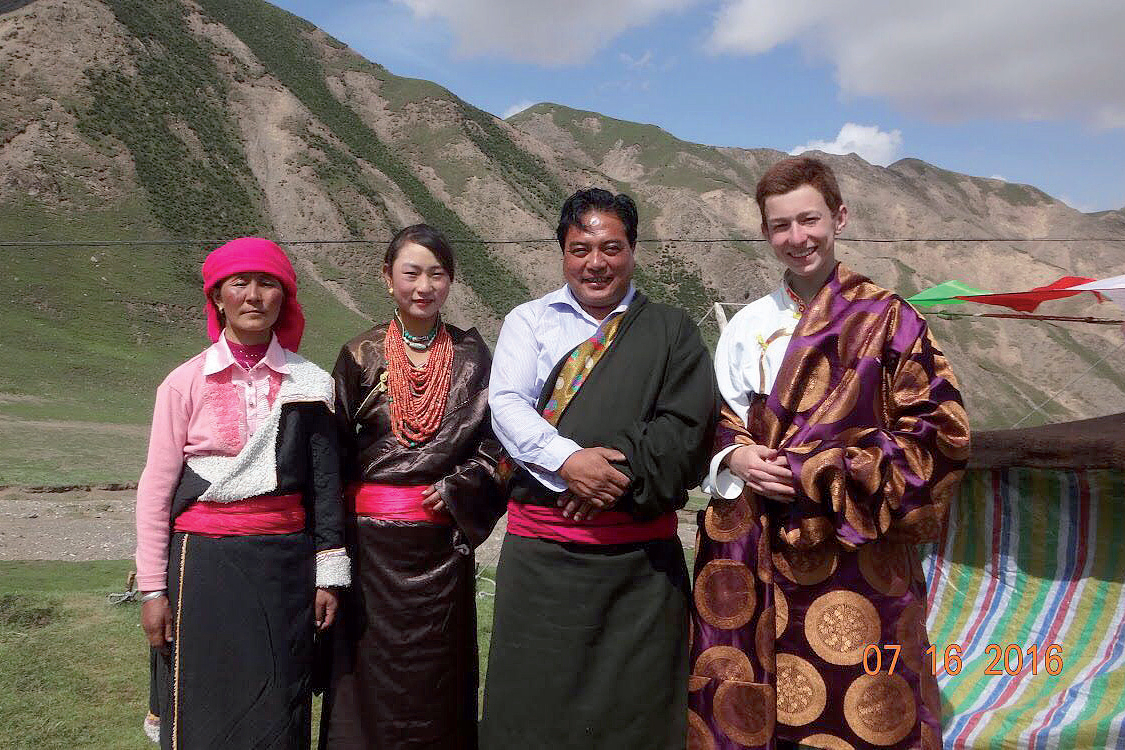 A high school student from New York with a passion for China probably has visited more places there than many Chinese nationals.
Max Horne, 18, who also goes by his Chinese name Hong Mingwei, speaks fluent Mandarin and has visited China seven times since 2015, including Beijing, Shanghai, Suzhou, Hong Kong, Chengdu, Kunming, Lijiang and Tibetan areas in southwestern China.
"I have been studying Chinese the past seven years, and I love every minute of it," said the senior at the Riverdale Country School in the Bronx, New York. That study paid off last year, when Horne won a national Mandarin speech competition for US high schools students in Boston.
"When I was in our lower school here at Riverdale, we had a unit on the Silk Road in our social studies class, Si Chou Zhi Lu. We studied a lot of China's engagement with the West through trade during a much earlier time period. I became very interested in Chinese culture," Horne said.
"I became aware of how different it was from American culture, and how much I wanted to understand more, and how much I feel I have an obligation to understand it more. That was a very great thing to be challenged as a young person to think globally and differently."
Adventures in China
The classroom turned out to not be big enough for Horne's ambitions. In 2015, he visited China for the first time on a summer program.
"We went to Lijiang in Yunnan province and did a home stay with Naxi ethnic people. We stayed in a small village called Ji Xiang Cun, which literally means 'a village of prosperity'," Horne told China Daily, in an interview conducted in Chinese and English.
In that village, he studied Chinese in the morning and experienced the culture in the afternoon — learning about how they farm and take care of chickens — part of the Dongba culture, the Naxi people's distinct religious cultural and linguistic heritage.
"I still remember when the chickens and other livestock all broke out and ran toward us. We needed to get them back to the yard as soon as possible. That was fun," Horne chuckled, waving his arms to show how he helped gather the animals.
In the summer of 2016, Horne went on a monthlong study program to China's westernmost regions, including Tibet autonomous region, Sichuan, Qinghai and Gansu provinces.
Instead of taking a nonstop flight, he bought a standing ticket for an 18-hour train ride to Tibet, and the kindness of strangers changed his entire journey.
"During that time period, I ran out of food to eat and water to drink. When we got to a smaller village's train station, a man got on with some of his own produce … a big cucumber. He broke it in half and gave me half of it, because he thought I was hungry and alone. I think that moment completely changed the train ride."
Horne started to talk with the passengers next to him and made friends. Some of them were migrant workers going back home; some were businesspersons going to western China.
"Whoever they were, they had a story to share," he said. "My ability to speak Chinese allowed me to hear their stories and share mine."
During that trip, Horne spent a few days in a remote nomadic area of Qinghai province to experience the region's Tibetan lifestyle, and he was struck by the local host family's hospitality.
"We took all of our meals on the floor of the tent, which they could tell I was not used to," Horne said. "Without my asking, they drove many miles to the nearest town to acquire a table and chairs just for my use. The family gave up their only available mattress for the duration of my stay to ensure that I could sleep comfortably."
Horne said they carried water up from a local stream in large jugs, "so that I might comfortably wash my face each morning and have ample water to drink", he wrote in his caption story, along with a picture of him with his host family in traditional Tibetan garb.
"They gave me all that they had to give. It was enough — more than enough. It was wonderful."
The Mandarin champion
Horne took all his cherished memories back to the US and shared his story at the 13th Chinese Bridge Speech Contest for US high school students at the Confucius Institute at the University of Massachusetts-Boston in 2018.
"China and Chinese, I am so thankful to you for the new ways of thinking you have opened my eyes to and for making me contemplate more deeply the true meaning of compassion," Horne said fluently in Mandarin in his speech titled "Heavenly Tibet and the Hope in My Heart". He won the championship of the advanced group.
Horne said that being able to speak Mandarin is the gift of a lifetime, and he decided to pass it on by starting an afterschool Chinese program at Riverdale.
"I feel that the gift of China was given to me by my Chinese teacher and all the other educators. So I really wanted to pay it forward and give that gift of understanding China and Chinese culture to other kids," he said. "I teach some third, fourth and fifth graders simple Chinese, and it's really about exposing them to something new and hoping that later on they are engaged with China and study Chinese."
Horne said that "in the Chinese classroom, we are not only working to learn Chinese. We are working toward a more peaceful world. What happens in the Chinese classroom — it's beautiful. It's magical."
Unlike many other American high school students, Horne is something of a "Chinese local" who knows how to shop on Taobao (Chinese shopping website), sing Mandarin songs in Tik Tok (a short video platform also known as Douyin in China), and listen to popular songs that are often used in square dancing in China.
"I firmly believe that all of us, regardless of nationality or cultural background, have a moral obligation to work to understand those different from ourselves," Horne said, showing off the smartphone case he bought on Taobao.
Horne recently got accepted to Harvard University, and he said "with much certainty" that he plans to engage with China "for the rest of his life".
"It's hard to say at this point what that engagement will look like, whether it will be in academia, in diplomacy, in economics. ... But I definitely want to study China in a very intellectual setting. I want to learn more about Confucianism, Taoism and Buddhism. I want to take a lot more in-depth look at what makes China, China in a scholarly way."
Horne said he himself is a good example of the two countries' people-to-people exchange.
"I think of the 40 years of US-China relations, all of the people that I had the privilege to encounter throughout my years of learning Chinese. It really enriched my life, both academically and personally. That is what it means to me. It means 40 years of friendship."