Boeing could face prolonged effect
By Zhu Wenqian in Beijing and Scott Reeves in New York | China Daily Global | Updated: 2019-03-15 09:43
US grounds all 737 MAX aircraft 'harsh' scenario possible if issue is systemic, Fitch Ratings says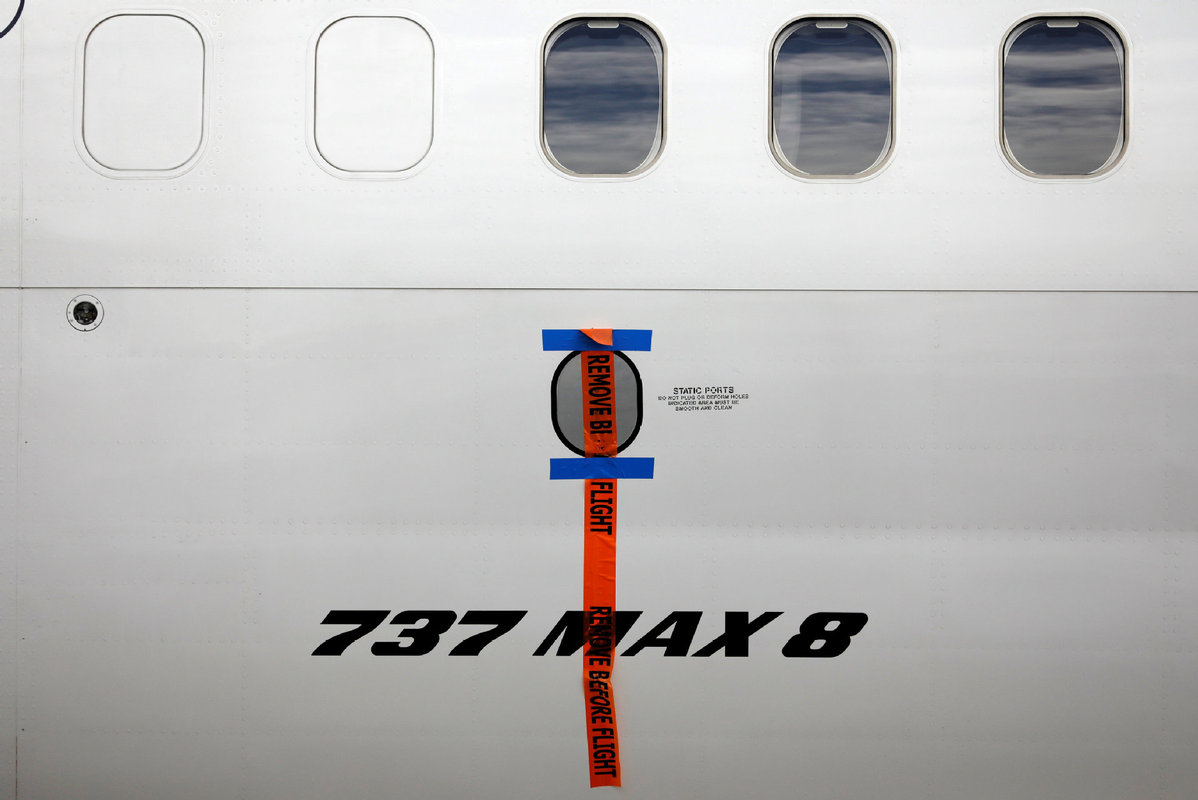 Groundings around the world of Boeing 737 MAX aircraft in the aftermath of two deadly crashes involving the planes could have a prolonged, "harsh" effect on aircraft manufacturer Boeing Co, including delayed delivery of materials and cancellation of orders, according to a major credit rating agency.
The fallout "could be a concern throughout the aviation credit sector for much of 2019", New York-based Fitch Ratings, one of the "big three" credit rating agencies, said in a statement.
"It is premature to take credit ratings actions at this time, as final conclusions about the Ethiopian Airlines and Lion Air crashes are not yet known, and there are many scenarios that could play out," the statement said. "Most concerning would be a harsh scenario including a systemic issue with the aircraft leading to lengthy groundings, material delivery delays, significant order cancellations and negative public sentiment toward the MAX."
The scenario could weaken the credit profiles of Boeing and some of its suppliers, Fitch said.
Deals involving the 737 MAX could come under pressure, "offset by higher valuations for alternate narrow-body models that would be needed to replace the 737 MAX", which is the latest version of the 737 series, it said.
US President Donald Trump said on Wednesday that his administration had ordered the grounding of all 737 MAX planes in the country, including MAX 8 and MAX 9 aircraft. More than 40 other countries and regions have halted flights of the aircraft after crashes of 737 MAX 8 aircraft in Ethiopia and Indonesia killed all aboard.
Trump said he decided to ground the aircraft after meeting with Transportation Secretary Elaine Chao. He said the decision to ground the 737 MAX planes was made because of new information about Sunday's crash in Ethiopia, which killed 157 people on board an Ethiopian Airlines 737 MAX 8. The FAA said new evidence had been collected at the site of the crash on Wednesday, and that information - along with new satellite data - led to the grounding decision.
In October, a 737 MAX 8 flown by Indonesian airline Lion Air crashed in the Java Sea, killing 189 people.
Boeing posted a statement on Wednesday saying it recommended that the US Federal Aviation Administration temporarily suspend operations of the entire global fleet of 737 MAX aircraft - 371 in all.
First delivered in mid-2017, the 737 MAX is Boeing's fastest-selling jet ever, with nearly 4,700 of the planes from 69 carriers on order, which accounts for about 80 percent of its total reserve orders, according to the manufacturer. Shares of Boeing have fallen about 11 percent this week, and its market value has dropped more than $24 billion.
"While the MAX makes up a small percentage of the global airplane fleet, it is a key part of many airlines' growth and cost reduction plans," Fitch Ratings said.
Lin Zhijie, an aviation industry analyst, said: "The 737 MAX is one of the most mainstream aircraft models globally. ... In the single-aisle aircraft market, Boeing originally took advantage. But recently, its archrival, European aircraft manufacturer Airbus SE, has caught up."
If the grounding of the 737 MAX lasts long and is not properly resolved, it could have a larger negative effect on Boeing, Lin added.
Contact the writers at zhuwenqian@chinadaily.com.cn