Economy firm despite slowdown in growth
By Wang Mingjie in London | China Daily | Updated: 2019-03-15 09:43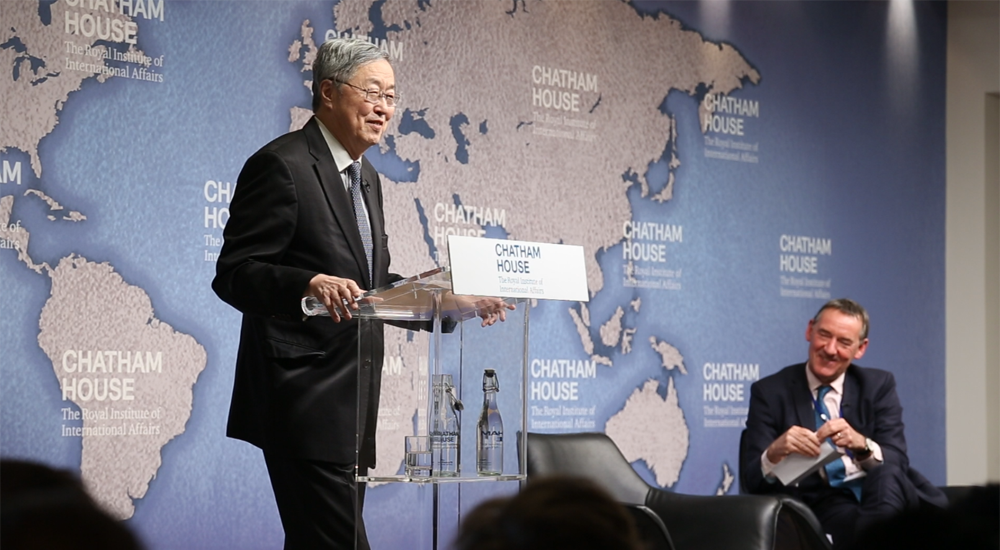 China's economy remains resilient, despite the nation's gross domestic product growing last year at its slowest rate for two decades, former central bank governor Zhou Xiaochuan said on Tuesday in London.
"Because the (Chinese) policymaker is quite pragmatic, and China is still a quite high-saving country - the saving rate now is still 45 percent of the GDP - so we have the resources to carry on the reform and correct the mistakes we made by ourselves," Zhou said in a speech at The Royal Institute of International Affairs, which is commonly known as Chatham House.
Zhou said China should study Japan carefully to ensure it does not encounter similar problems.
"As an Asian economy, Japan had very fast economic development but later on had a so-called 'lost decade'," Zhou said. "The Chinese economy has similar overleveraged problems, so we need to absorb the knowledge and lessons from Japan."
The "lost decade" he referred to was a period of economic stagnation in Japan that followed the nation's asset price bubble collapse in the early 1990s.
Zhou stepped down as governor of the People's Bank of China in March 2018 after serving in the position from December 2002, making him China's longest-serving central bank governor since 1949.
During his tenure, China became the world's second-largest economy and a consequential player in global financial markets.
Zhou, who is now president of the China Society for Finance and Banking, has been recognized for his lifetime's achievements in reshaping the Chinese economy and received a 2019 Central Banking Award.
He is well known for his high level of integrity, intellectual rigor, and bold reforms that served the public interest in China and elsewhere.
On the subject of how to encourage confidence in China among private enterprises, Zhou said: "The government needs to be careful in the policymaking to create a level playing field, to prevent the risk of allocation to crowd out for the private sector."
But he also acknowledged that some large private companies had developed investment risks and gone bankrupt because they had borrowed money fraudulently and used it to participate in risky ventures, creating problems for the society and the economy.
Because of this, the private sector's confidence may have been lowered, he said.
"So, we need to have a good disposal procedure to dispose of those failed companies but meanwhile we still need to emphasize how to improve the Chinese private sector as a major engine of the economy."
China's first new foreign investment law in decades, which is one of the most important legislative items at this year's two sessions in Beijing, is likely to be passed later this week.
Zhou said, the introduction of such a legislation should give confidence to foreign investors and also help solve issues around unfair competition.
The old foreign investment legislation allows local governments to set their own policies to promote foreign investment. Zhou said it is important for the new law to prevent unfair competition at the regional levels, and the law clearly stipulates what to implement and what to avoid, including some local industrial policies, in order to give confidence to foreign investors.