Kenya renews calls for closing global Ivory markets
By LUCIE MORANGI in Nairobi, Kenya | China Daily Global | Updated: 2019-03-15 01:50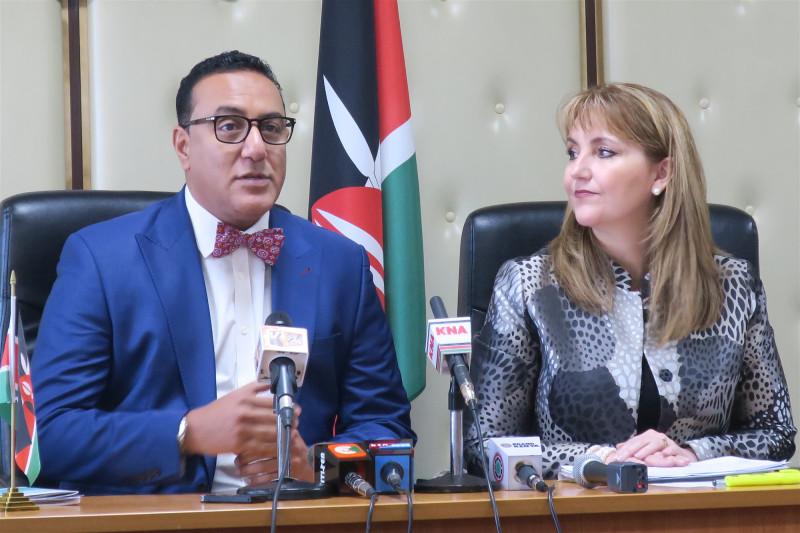 Ivory markets in the European Union and Japan are fueling the international market for ivory, said a senior Kenyan government official on Wednesday, as the east African government increased its calls for the closing of those markets.
The markets continue to undermine global conservation efforts, said Najib Balala, the cabinet secretary for Tourism and Wildlife. "Poaching is the biggest threat to the livelihoods of more than a million Kenyans who are directly employed in the industry," he said.
Balala made his comments at his office in Nairobi where he had hosted Gloria Guevara, CEO and president of the World Travel and Tourism Council (WTTC). She releaseda survey by the council that showed Kenya's travel and tourism sector was responsible for 1.1 million jobs, which is 8.3 percent of total employment in the country.
The sector's growth had exceeded global and regional levels in 2018, she said. It grew by 5.6 percent, contributing $7.9 billion, which is 8.8 percent to Kenya's GDP. This rate of growth was faster that the global average of 3.9 percent and the Sub-Saharan Africa average of 3.3 percent.
The EU is the world's major exporter of legal ivory and exported 1,258 tusks in 2014 and 2015 alone, more than the previous eight years combined, according to a US-based global advocacy group Avaaz. Similarly, Japan supports a booming domestic market, with up to $27 million worth of ivory put up for sale in the last 10 years, according to the African Wildlife Foundation.
"The continued legalizing of these markets is pushing up demand for ivory, further fuelling Africa's elephant crisis," said Balala.
He said that the move to close those markets had a significant impact to poaching. Balala commended the Chinese government's decisive move to shut down its legal markets and said the poaching incidences in Kenya have consequently decreased. Balala said that Kenya lost 38 elephants in 2018 and 68 elephants in the previous year.
"But if you look at the numbers in 2016, they were very high. Our success can also be attributed to increased investments in anti-poaching programs by the government," he said.
Balala reaffirmed Kenya's stand that wildlife was more valuable when alive. The east African country burned 100 tons of ivory in 2016 to rally the global community behind protecting the endangered animals.
"The moment a country sells its stockpile, it is inadvertently fueling illegal trade of ivory. That is why we will be appealing to the Convention on International Trade in Endangered Species (CITIES) to upgrade African elephants from Appendix II to I in the list of endangered species," he said.
Kenya plans to meet other countries, among them the US, during the ongoing fourth session of the UN Environment Assembly in Nairobi and lobby them to support its bid to have all African elephants listed in Appendix I of CITES.
Currently, all African elephants are included in Appendix I, except for the populations in Southern African Development Community (SADC), which are in Appendix II.
Kenya fears that the EU will back SADC in retaining them in this category during the forthcoming 18th meeting of CITES, scheduled to be held in Colombo, Sri Lanka, in May. "This means that the countries can sell their ivory stock pile through the permit system allowed by CITES. This would be a signal that would fuel poaching," said the CS.
Nevertheless, he agreed that the country needed a double pronged approach, which would not only increase its anti-poaching campaign but also strengthen the management of parks to reduce human-wildlife conflict.
Contact the writer at Lucymorangi@chinadaily.com.cn