Firefighters extinguish mountain blaze in Yunnan
By Hou Liqiang in Beijing and Li Yingqing in Kunming | China Daily | Updated: 2019-02-11 09:32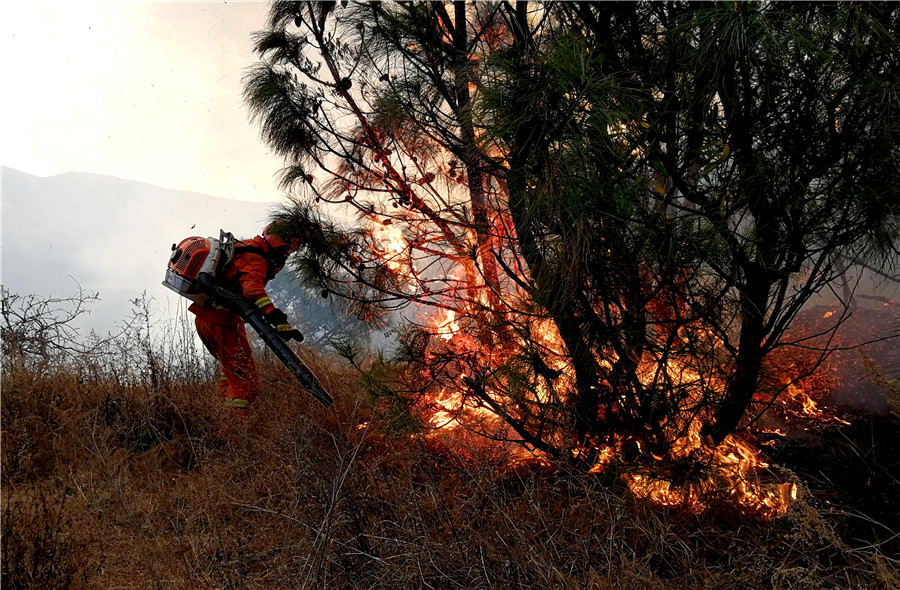 More than 500 firefighters largely extinguished a blaze on a mountain near Erhai Lake in Yunnan province early on Sunday after an all-night battle, though some hot spots remain.
Many firefighters remain on standby, as high winds have fanned some smoldering areas into renewed flames. Helicopters have been mobilized to help control the fire because of the rugged terrain.
A preliminary investigation blamed the blaze on a short circuit in high-voltage lines, the city government of Dali said in a news release on Sunday. The blaze started on top of the mountain in Haidong township at 1:25 pm on Saturday. No injuries have been reported.
The fire-control work was complicated by strong winds that switched direction, and it spread rapidly to three areas, according to a report in Spring City Evening News quoting Wang Yuqi, deputy head of Haidong.
Wang, who was among the first group of people to arrive at the site on Saturday afternoon, said at least 50 residents from nearby villages participated in the firefighting work, which lasted until dawn.
Helicopters dispatched by local emergency management authorities played a major role in preventing the fire from spreading by fetching water from the lake, the Dali government said.
A helicopter was dispatched to the site about 10 minutes after the fire was reported around 1:30 pm. As of 6 pm on Saturday, the aircraft had managed to dump 96 metric tons of water on the blaze, it said.
The local firefighting authority said firefighters put out the fire at 8:40 am on Sunday, but high winds caused some flames to reappear in smoldering areas.
Two helicopters had to be dispatched to the site again on Sunday because the rugged terrain made it difficult for firefighters to reach the flames, it said.