'My China Album' to celebrate 40 years of China-US memories
By By DONG LESHUO in Washington and KONG WENZHENG in New York | China Daily Global | Updated: 2019-02-07 12:57
Share Your Unforgettable Memories and Join Us in Celebrating the 40th Anniversary of China-US Diplomatic Relations
The Embassy of the People's Republic of China in the United States of America and China Daily Launch "My China Album" Photo Competition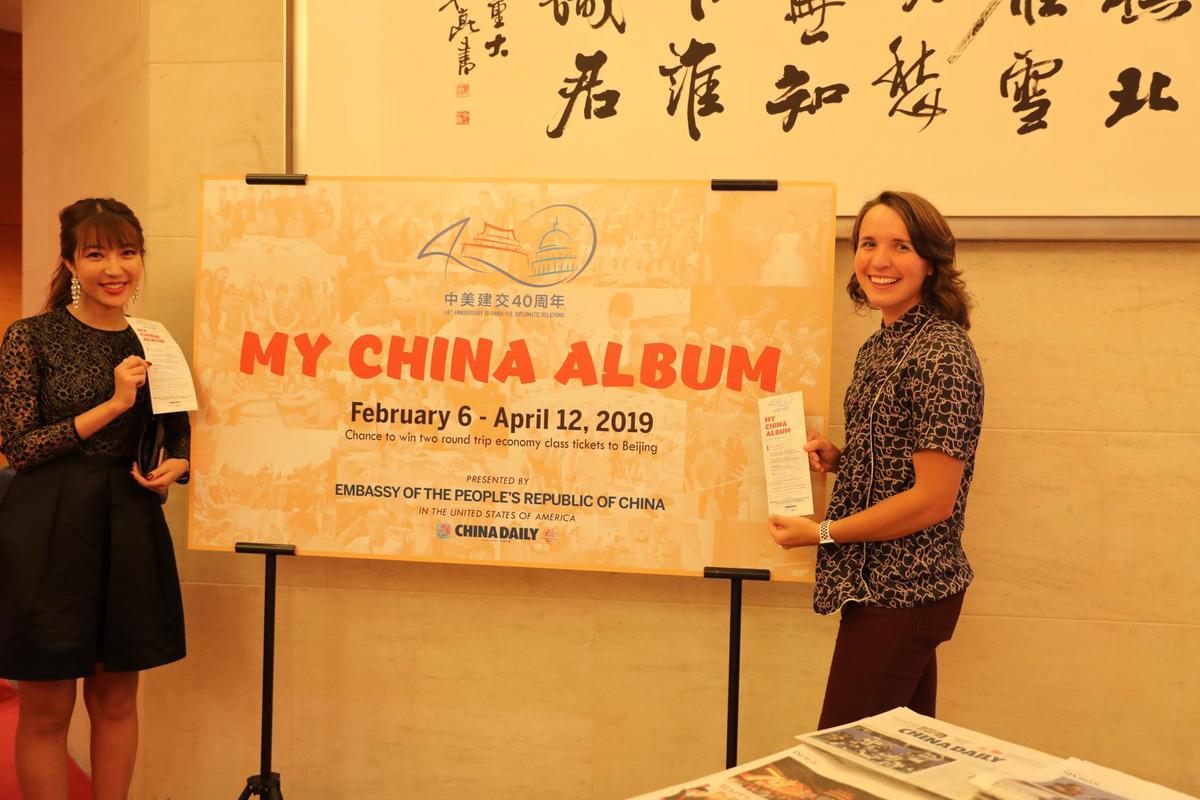 My China Album, a story-sharing event focusing on the friendship between people from China and the United States, was launched at a reception hosted by the Chinese embassy celebrating the 40th anniversary of the establishment of China-US diplomatic relations.
The reception Wednesday, co-organized by China Daily, China's largest English-language newspaper, which has a global audience, encourages Americans to submit photos and stories highlighting their most memorable experiences in China, especially their encounters with Chinese people. The grand-prize winner will receive two economy-class, round-trip airline tickets from New York to Beijing.
The exchange of visits between Chinese and American table tennis teams in 1971 and 1972 opened a new chapter in China-US friendly relations and contacts.
On Jan 1, 1979, the two countries officially established diplomatic relations. Since then, people-to-people exchanges have helped cement a foundation and have played a key role in promoting understanding and mutual trust between the two countries.
There are currently more than 5 million mutual visits between the two countries every year, and China and the US have become each other's largest and second-largest sources of international students.
"The year 2019 marks the 40th anniversary of diplomatic relations between China and the United States. Over these decades, there has been a marvelous growth in people-to-people contacts and ties between our two countries. As we now look forward to the coming decades, the friendship between our two peoples will continue to be the very foundation of relations between our two great countries. That's why we invite you, invite all our friends all over the United States to come and share with us your most memorable stories with China. Together we will build stronger ties between our peoples. And with your personal stories, you will help make history," said Cui Tiankai, Chinese ambassador to the US.
"People are the most interesting stories behind a sound bilateral relationship, and pictures are a strong testimony to such relations," said Zhou Shuchun, publisher and editor-in-chief of China Daily. "At China Daily, especially with our newly launched Global Edition, we are committed to bridging the gap of understanding through powerful people stories. I believe when we see your photos and hear the stories which go with them, we will better understand the essence of China-US relations, which is really about people," Zhou said.
Many people at the reception said they had China stories to share.
"I have too many," said Craig Allen, president of the US-China Business Council, who first went to China in 1988.
"My favorite memory of Shanghai was buying a little cricket from a traveling salesman during a hot Shanghai day," which he loved very much, he said.
"It was my friend," said Allen, "but when I had to leave Shanghai, I spent quite a bit of time to find a new home for my cricket."
Allen said he finally set the cricket free in a park.
"If any of my Chinese friends find my friend, the cricket, in Shanghai, please da ge zhao hu (say hi to him)," he added, showing off his Chinese skills.
The event brought back memories to people who had deep connections with China.
"China has been very much a part of our life — throughout our adult life," said Henry Levine, senior adviser at Albright Stonebridge Group, a Washington-based global business strategy firm, whose wife was a senior interpreter for the US government based in the State Department for many years.
"We have some very big ones (photos) that have been signed by Deng Xiaoping and other Chinese leaders with US presidents," said Levine, who said he would be happy to share the photos.
The photo-sharing event highlights people-to-people exchange that's happening between the two countries, according to Cui.
"When students learn about China, they just become so mesmerized — they become so excited about learning more about the culture, the history and the people of China. And that's what's so important — building relationships between our two countries," said Diana Greer, president of the US-China Peoples Friendship Association, which conducts exchanges between students and scholars of the two countries.
"And when you have those personal experiences, and those personal visits back and forth," said Greer, "it just helps us begin to understand the Chinese people much better, and they begin to realize and understand us better."
The China National Tourist Office in New York and the China General Chamber of Commerce – USA (CGCC) are event partners. More partners in the US are welcome to join the campaign throughout the event.
Participants are invited to submit up to three photos with captions, limited to 300 words or less, explaining their person-to-person exchange, relationship or experience, exemplified through the photographs. Submissions should be made via email at: mychinaalbum@chinadailyusa.com, or via mail at: My China Album, 529 14th Street NW, Suite 1108, Washington DC 20045.
Judging will take place at the close of submissions, and prizes will be awarded to 10 finalists. All entrants will receive a souvenir for participating in the event.
The grand-prize winner will receive the flight tickets. Finalists also may have their stories featured in China Daily through its print edition and many digital platforms.
More details can be found on the event website: http://www.chinadailyglobal.com/mychinaalbum
Contact the writers at leshuodong@chinadailyusa.com