Ambassador talks of strengths, myths in China-US ties
By MAY ZHOU in Atlanta, Georgia | China Daily USA | Updated: 2019-01-21 22:41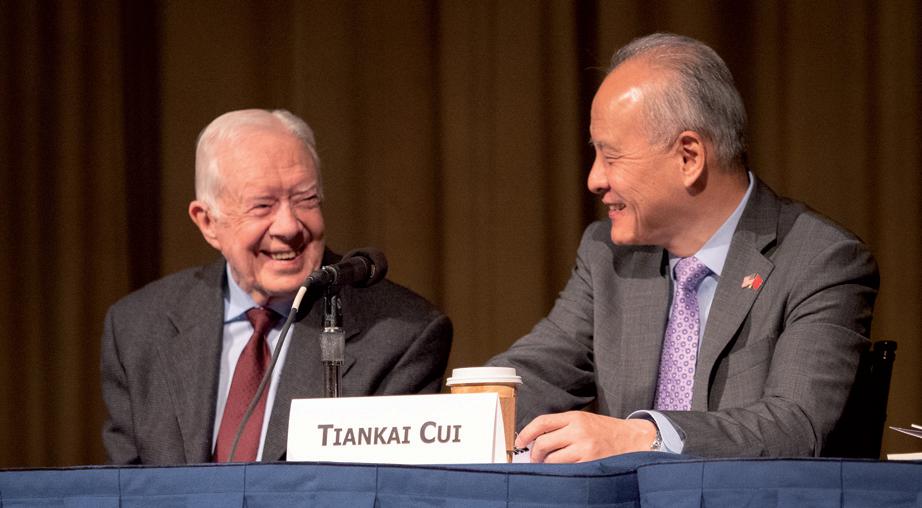 Cui Tiankai emphasized to an audience in Atlanta on Friday how much has been achieved in four decades of China-US diplomatic relations.
"Over the past 40 years, both countries and our relations have developed by leaps and bounds, delivering huge benefits to the people of our two countries and the whole world," China's ambassador to the US told about 200 American and Chinese experts and former diplomats.
He spoke at a three-day symposium commemorating the 40th anniversary of the establishment of those diplomatic relations.
Cui also addressed what he called myths, such as that US policy toward China in the last 40 years has failed because China hasn't copied the US' political and economic systems, and that China has been taking advantage of the US.
US GDP grew from $2.63 trillion 40 years ago to $19.36 trillion in 2017. China's GDP in 2017 was $12.2 trillion.
"We should not be misled by those ill-founded myths. What we need is an objective perspective of where we were from, a keen idea of where we stand and a clear faith in where we are going," Cui said.
Those economic ties could get another boost on Jan 30 and Jan 31, when Vice-Premier Liu He will visit Washington for further consultation on trade and economic issues, China's Ministry of Commerce announced last week.
Cui called for the need to strengthen coordination to enhance mutual trust and avoid strategic miscalculations; the need to promote cooperation to expand common interests and to avoid "vicious rivalry"; and the need to maintain stability through mutual respect and proper management of differences.
One day earlier, former US president Jimmy Carter told the gathering: "The most important bilateral relationship in the world today is the one between the United States and China. We have some difficulties, and I have to say that the difficulties Deng Xiaoping and I faced were much greater than the trade disputes and so forth that exist today, but we have goodwill on both sides.
"I urge every one of you, no matter how many people you know on Earth, in your own country, in the diplomatic circles, in business circles, in education circles, to put in the forefront of your mind and conversations the advantages that have already been reached and can be reached in the future between the United States and China in a state of harmony with mutual respect with friendship, and I would say even with love, between the people of China and people of my country, the United States of America," Carter said.
Jon Taylor, a political science professor at the University of St. Thomas in Houston, said that Cui's and Carter's remarks "underscored the need to maintain good relations between China and the US. I particularly liked Cui's observation that it is important to keep the bigger picture in mind by remaining open to a healthy relationship between the two countries that is built on mutual respect and trust," Taylor said.
Cui's speech "also reiterated China's willingness to both maintain and foster a clear framework for cooperation, understanding, and yes, trust, between the two nations within the context that China will
exercise its rights as a global power and protect both its domestic and international interests", Taylor said.
Charles Foster, chairman of US-China Partnerships in Houston, said that Cui made a good point in saying that the diplomatic relationship was not based on remodeling one side after the other.
"When we talk, we often hear that there is disappointment that China is not more like us," Foster said. "When we initially went into this relationship, it's not that the US thought to transform China into a system like the United States. If we thought China's motivation was to transform the system of the United States much like China's, we would be very much offended," Foster said.
He agreed with Cui's point that the US opened the relationship with China due to mutual interests.
"We both had, at that time, reservation about the Soviet Union, and the United States did want to bring China into the broader international community to create a more stable international community," he said, adding that the goals have been achieved. "Some Americans do see it as zero-sum game that China must grow at the expense of the United States, but in fact, both grow together."
Foster said that the United States will have to compete with China economically, but that's not necessarily bad. "When China decided to compete with us in our own game, it's primarily competing with the US by growing its economy.
"There is no American figure today speaking out forcefully on behalf of China," Foster said. "The business sector is too cautious and conservative, so are politicians. Even though they support the relationship, they are not very vocal talking about the benefit of the relationship because of the political climate we are in right now."
Contact the writer at mayzhou@chinadailyusa.com